Hyderabad: Family members of an 18-year-old boy, Shaik Shanawaz Ahmed, who is battling lymphoma have appealed to masses for financial aid for a critical 'bone marrow transplantation'.
Shaik Mujeeb Ahmed, the patient's father, has requested urgent financial help to save his son's life. Mujeeb sells belts on a footpath in Abids. He has 3 daughters and two sons.
According to Mujeeb, Shanawaz has been battling Lymphoma for three years. Shahnawaz had also given the EAMCET (entrance exams) following which his health deteriorated. Since then, the family has been making rounds to different hospitals to get their son's health back on track. However, none could detect that Shanawaz had cancer.
It was only after they reached Yashoda Hospital one and a half months ago that it was confirmed by the doctors that Shanawaz had cancer and could be saved by a bone marrow transplant operation.
However, the procedure was expensive and Mujeeb even had sold his house to pay for Shahnawaz's expensive treatment over the years.
After spending Rs 1,50,000 from savings and loans, he is now in need of another Rs 13,45,000. Doctors at Yashoda have given a deadline of 30 days during which the procedure must be performed on Shanawaz, raising hopes for his healthy life.
Visit this website to donate online.
Bank account details
Account name: Shaik Shanawaz Ahamed- Milaap
Account number: 2223330058352963
IFSC Code: RATNOVAAPIS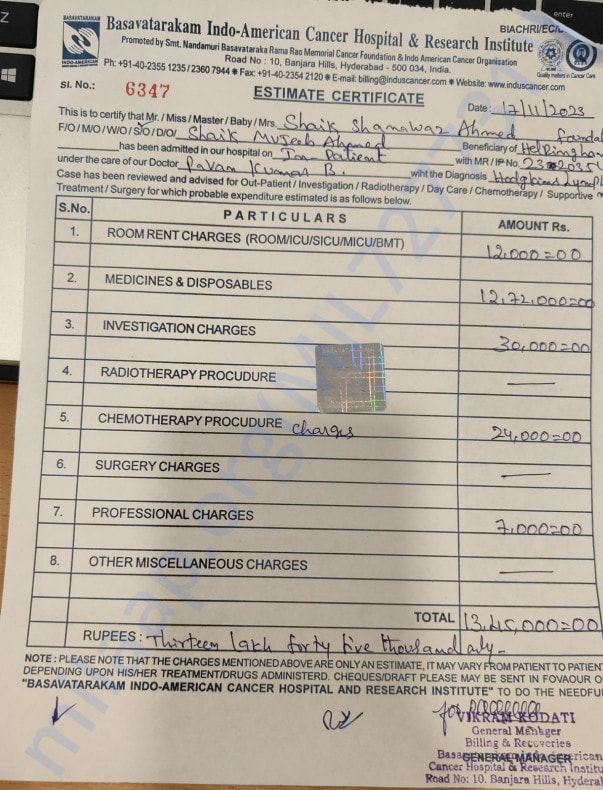 ---