Hyderabad: Three people including the owner of Varalakshmi Tiffin Centre were arrested by Mokila police on Sunday, for allegedly smuggling drugs.
Varalakshmi Tiffins Centre, located in Food Lane, DLF Street, Gachibowli, is a famous spot for tourists and youngsters in the city.
However, the hotel has recently gained attention after drugs worth approximately Rs 14 lakh were seized by the police.
The cops arrested the tiffin centre owner Prabhakar Reddy, Anuradha, a consumer-cum-peddler and Venkata Shiva Sai Kumar along with Rs 97,500 cash, three cars and five mobile phones.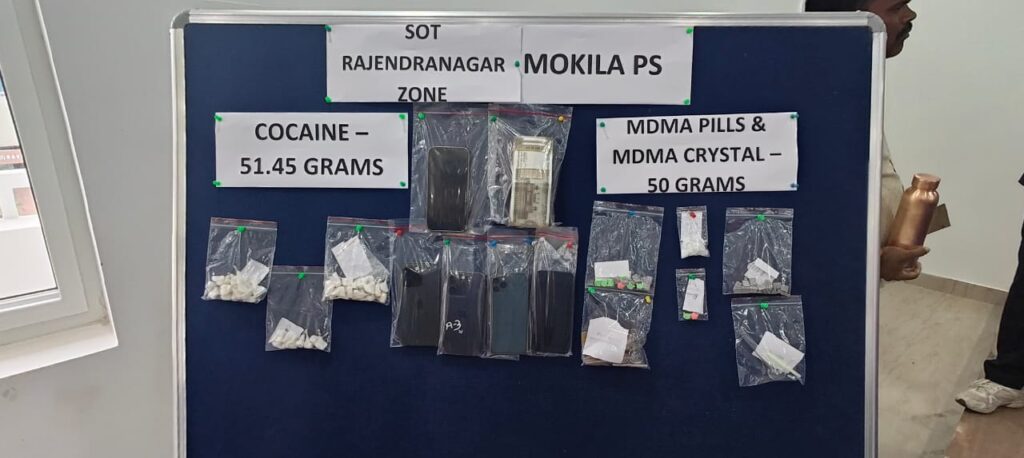 According to the police, the prime accused Anuradha had been procuring drugs for a couple of years in Goa.
Also Read
Telangana: Newborn girl abandoned in bushes at Suryapet, rescued
To earn money, she started transporting the drugs to Hyderabad by public transport. During this time, she became friends with Prabhakar and Venkata.
They started selling drugs locally, including cocaine, MDMA, and Ecstasy pills. The police stated that they used to meet at Mokila to discuss the supply of drugs.
The arrest took place while a deal related to the drug supply was in progress. On a tip-off, the Mokila police along with the Special Operations Team (SOT) of Rajendra Nagar apprehended the accused at Indrareddynagar while they were trying to escape.
A case has been registered while the cops have imposed section 21(C) (Punishment for contravention in relation to manufactured drugs and preparations) 22(C) (Punishment for Consumption of drugs), 29 (imprisonment of 10 years) of Narcotic Drugs and Psychotropic Substances (NDPS) Act-1985.
Meanwhile, the cops have requested the citizens to inform them if they have any information related to Drug suppliers by dialling 100 or by calling 9490617444.
---