Hyderabad: A traditional and fun Garba event organised annually by a mother-daughter duo at Begumpet Hockey Stadium in the city witnessed a ruckus as it began on Monday, October 18. It happened due to accusations of 'love jihad' by a right-wing mob at the venue.
According to some individuals who were present at the venue on Monday, who requested anonymity, it all started with Bajrang Dal activists alleging that a 'Muslim man' entered the venue to indulge in 'love jihad'.
A video of the incident was widely circulated online by several individuals, including advocate Neelam Bhargava Ram, the joint convenor of the BJP Legal Cell, and YouTube channels. Neelam claimed that the footage proves that 'love jihad' is real. Suspended BJP leader and Goshamahal MLA T Raja Singh had earlier cautioned the garba organisers against the 'love jihad' conspiracy.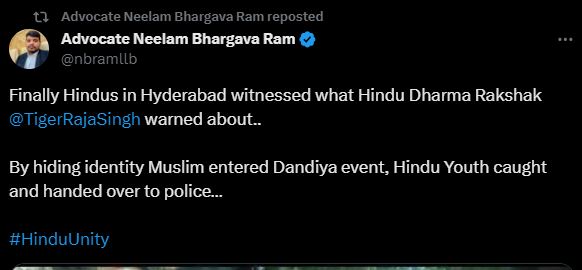 In the video, the accused 'Muslim man' is seen surrounded by 'Hindu youth' who question his identity and faith. According to a statement issued by Bajrang Dal, the man changed his name to 'Ashish' but his actual name was 'Fareed Shah'.
The organisation also said that he was questioned and handed over to Begumpet police.
However, when contacted by Siasat.com, Begumpet Station House Officer Bhaskar Juttu said that no such individual was handed over to them. "They came and saw if any Muslims were present but had to return as they found nothing," he added.
The event
Kavita Jain and Saloni Jain, the mother-daughter duo, are the curators of the annual 'Navkar Navratri Utsav', which is advertised as a mix of dance, music, and devotion. Along with the dance, people also visit the venue for the plethora of food stalls present at the venue serving delicious food.
The organisers have been conducting the event since 2018 and is one of event is one of the leading Garba events happening in the city. Thousands attend this event every day throughout the nine days of Navratri.
Over the years, many celebrities, including TV stars, took part in the event. The event also witnesses some game contests after which prizes are given to game winners. Tickets for the event are available for sale online.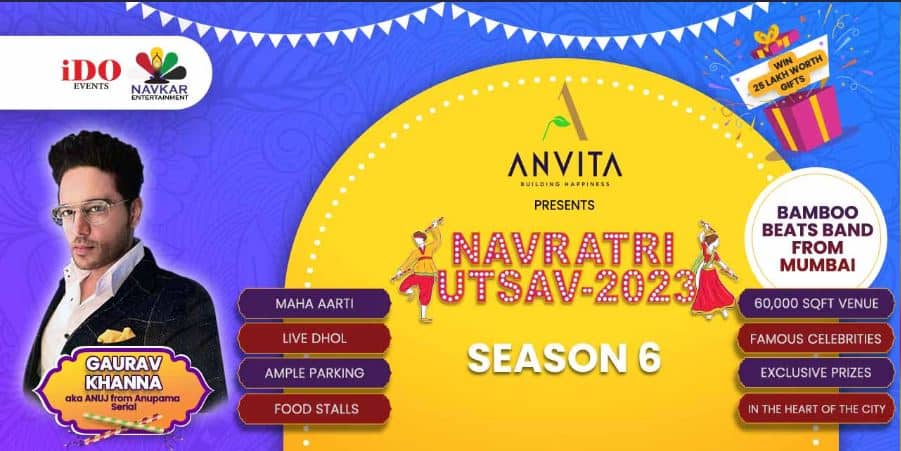 Organisers refute Bajrang Dal's claims
Speaking to Siasat.com, Kavita Jain categorically rejected all the claims made by the Bajrang Dal activists. She said that the claims were made to "damage the reputation of her event."
"They are spreading false rumours on WhatsApp and other platforms, alleging that women were harassed at our event. It's totally untrue. I have been in the event management industry since 2008 and have been conducting these annual Garba events for 6 years. Our venues are under CCTV surveillance and we hire bouncers to ensure no individual is troubled," she said.
Also, disturbed over the alleged online rumours of harassment at the venue, one of the dandiya participants, who was projected as a victim of 'love jihad' attempt, issued a statement rejecting these claims.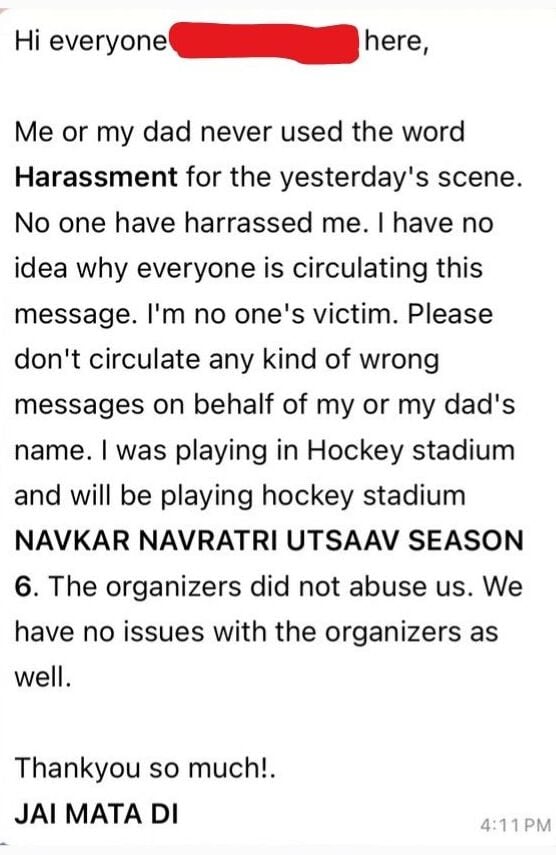 Speaking to Siasat.com, the dandiya participant, who didn't want to be named, said that her photographs were being circulated online with false rumours. "My parents are stressed about the situation. We are getting numerous calls asking us about these fake online posts," she said.
Organisers targeted
Organiser Kavita Jain also alleged that despite their attempts to control the situation on Monday, the right-wing workers indulged in violence against her and others at the venue. She said that the whole incident caused mental agony to her and her family.
According to a complaint filed by Kavita with the police, she alleged that a mob of 40 people barged into the venue. They pushed the bouncers and created a nuisance. "They misbehaved with me. Several participants got injured," she stated. Subsequently, she filed a complaint with the Begumpet police on October 17, Wednesday.
An FIR has been registered following her complaint under section 341 (wrongful restraint), 447 (criminal trespassing) of the IPC against Bajrang Dal workers, including Vijay Sharma, Balamrai Naresh Yadav, Nemi Makhana and others.
No 'Muslim man' was present
Asked about the 'Muslim man' in the online videos, she said that the whole situation had been created to damage the reputation of their event. "Nobody like that was present at our event," she added.
Asked if she was fine with the participation of non-Hindus in the event, Jain responded, "The tickets are available for sale online. Anyone can purchase them. However, we are trying to accommodate Bajrang Dal diktats by applying tilaks and handing out Om stickers to the participants."
She added, "People go to concerts after buying tickets online. Do you go check religion of every individual? It is impossible for anybody to find who is buying them. Beyond this, since our event is primarily religious, I don't see the attendance of non-Hindus. As an individual, I do not discriminate and don't want people to be divided due to our event," she said.
Kavita even offered to put out the whole footage of that event for the public to see in order to prove the standards of safety and security of her event.
Organisers suspect 'business rivalry'
Kavita said that she suspects her business rivals are involved in causing the ruckus, and spreading rumours of 'love jihad' at our event to tarnish its reputation.
"There are many Garba events in the city happening at this time of the year. I suspect that individuals who perceive us as business rivals are the reason for the situation," she said.
Saloni added that despite several dandiya events happening across the city during Navratri, only their event was being targeted. "This feels like a case of personal vendetta. Are they targeting all Garba events like this? They are just singling us out. Following this logic, they should also check Ganesh pandals," she said.
BJYM leader in videos
In one of the videos from Monday, Balamrai Naresh Yadav, Bharatiya Janata Yuva Morcha's (BJYM) state executive member, who is also associated with Bajrang Dal member, was seen using physical force against an individual in the organiser's team. Siasat.com couldn't authenticate the veracity of all videos sent to us.
On Naresh Yadav's Facebook page, he posted a video a few days before the Monday ruckus, addressing 'all love jihadis and Navratri event organisers'. He demanded compulsory ID checks at the events' entrance and warned of repercussions if the diktats were not followed.
"If we find any love jihadis in the events, we will make sure they will not be able to dance ever in their lives. The organisers will never be able to hold events again. I also urge our Hindu brothers from the RSS, Hindu Yuva Vahini, VHP, and Bajrang Dal to keep an eye on the dandiya events. If you find any love jihadis, break their limbs. We will see what happens next. Bharat Mata Ki Jai," he said in the video.
Purported call recording
Another video emerged on YouTube on October 17, posted by a channel named 'Aadi Bharat News', titled 'BJYM Laddu Yadav warns Dandiya Organiser'.
In the video, a voice identifying as Naresh Yadav can be heard speaking with Laddu Yadav, BJYM Hyderabad unit's president and head of the Bhagat Singh Yuva Sena, Telangana, explaining what happened at the venue.
While explaining his version of the sequence of events, Naresh Yadav purportedly expressed reservations about hiring Muslim bouncers for the event's security. (Siasat.com couldn't corroborate the authenticity of the clip). Laddu Yadav's is heard asking Naresh go violent against 'Jihadis' if found at the venue.
"..He was harassing girls Laddu Bhai," Naresh's voice is heard saying. To which Laddu Yadav responded by using derogatory terms against 'love jihadis' and asked Naresh to beat them to pulp.
Ruckus again!
Organiser Saloni Jain alleged that a huge mob of Bajrang Dal activists created a ruckus once again at the venue on October 18, Wednesday, despite tight security arrangements by the police and bouncers.
She further alleged, even after the event, these bouncers were individually targetted on their way home and were warned of repercussions if they continued to work for the organisers. They were purpotedly targetted because some of them were Muslims.
'Muslim bouncers'
On the subject of Muslim bouncers', Saloni asked if Bajrang Dal would also express reservations about Muslim police personnel conducting their duties in the state.
"Now they (Bajrang Dal) have issues with us for hiring Muslim bouncers. I want to ask them, will you do the same to Muslim police personnel? Hindus and Muslims live in peace in this city. We are a secular country," Saloni said.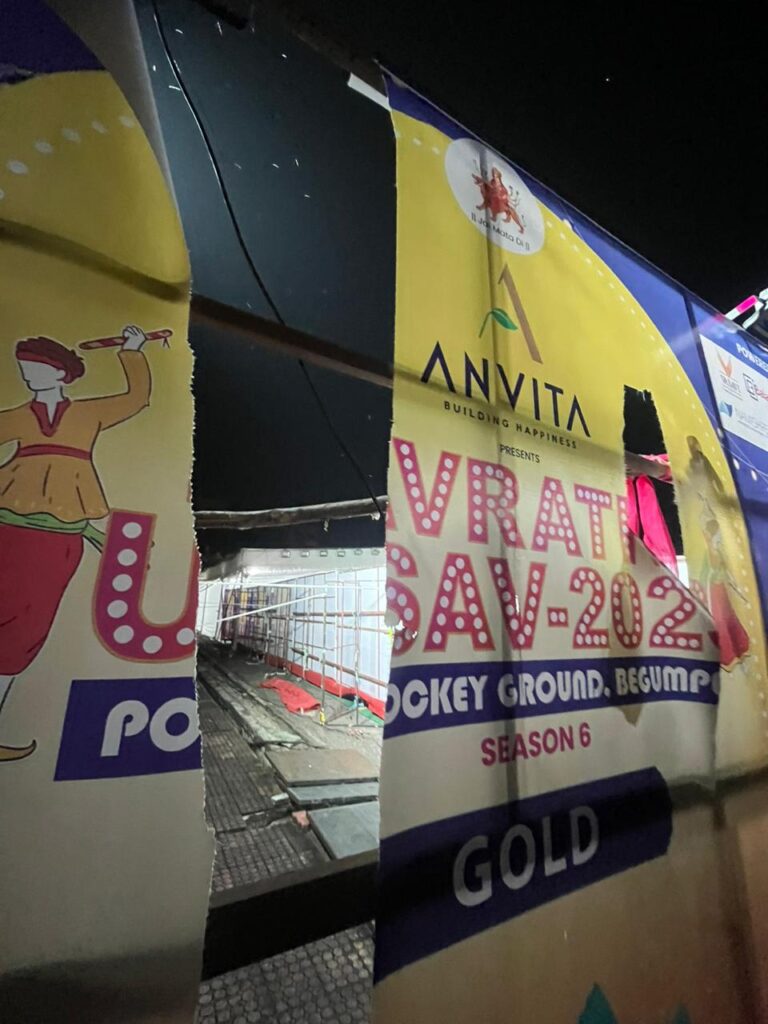 According to the organisers, the Navkar Navratri Utsav attracts around 3K-5K enthusiastic visitors every day during Navratri. "Due to this current commotion, people are afraid to visit the venue," Saloni Jain said.
"We are losing both on revenue and reputation because of the mob and online rumour mongering," she said in anguish.
Telangana police promoting 'love jihad': Bajrang Dal
Meanwhile, Bajrang Dal state president Shivaram in a statement issued on October 18, Wednesday, said that the actions of the Telangana police, in particular, IGP (training) Tarun Joshi were encouraging participation of non-Hindus in the Garba events.
"IPS officer Tarun Joshi took special interest and stayed at the venue yesterday (October 17, Tuesday) and extended support to the organiser. It is undemocratic of the police to put Bajrang Dal activists in jail. We will register a complaint against him with the Election Commission (EC)," he said.
According to some attendees, the police had to detain the mob to get the situation under control on the day of the tension.
The IGP's office told Siasat.com that he visited the venue only in a personal capacity and had nothing to do with the current issue. "Bajrang Dal's claims of Tarun Joshi promoting love jihad is false," his office said.
'We trust the police'
Kavitha Jain's daughter and co-organiser Saloni Jain said that she has full trust in the state police department to protect and safeguard the rights of women. "So, we don't need Bajrang Dal to get involved like this," she remarked.
What happened to the 'Muslim man'?
Details the 'Muslim man', who is the centre of this controversy are unknown. Bajrang Dal state president Shivaram said that he was handed over to the Begumpet police while the police denied anything like that happened.
While Bajrang Dal claims that the man's actual name is 'Fareed Shah', according to the Garba participants who spoke with Siasat.com, the name and details of the 'Muslim man' in the story kept changing in WhatsApp forwards, which leaves suspicion that the incident may have been staged.

---