Hyderabad: The Congress on Thursday, November 9, announced its 'minority declaration' promising major policies for the minorities in Telangana ahead of state Assembly polls.
Promises in the minority declaration
The grand old party promised to conduct a caste census within 6 months and ensure 'fair reservation' for all backward classes, including minorities, in jobs, education, and government welfare schemes.
The party also promised an increase in minorities welfare budget to Rs. 4,000 crore along with a dedicated minorities sub-plan.
The Congress vowed to provide Rs.1,000 crore/annum to facilitate subsidized loans for jobless minority youth and women.
Under commitment to 'Education & Employment equity'
The grand old party, under a 'Abdul Kalam Taufa-e-Taleem' scheme promised to provide financial assistance of Rs. 5 lakh to Muslim, Christian, Sikh, and other minority youth who graduate from M.Phil. and Ph.D. courses. Additionally, Rs.1 lakh will be delivered upon completion of post-graduation, Rs. 25,000 for graduation, Rs.15,000 for Intermediate, and Rs.10,000 for 10th grade, the party said.
The party also promised to establish a 'Telangana Sikh Minority Finance Corporation' and the filling vacancies in minority institutions. It further vowed to conduct a special DSC exam to recruit Urdu medium teachers.
Protection of Religious Rights and Culture
A monthly honorarium of Rs.10,000-12,000 is being promised for priests from all religions including Imams, Muezzins, Khadims, Pastors, and Granthis.
The party also promised to amend 'The Telangana State Minorities Commission Act, 1998' to make it a permanent body and table its annual report in the state legislative to make 'suitable changes' to policies for minorities welfare.
A promise to digitize land and property records of the Waqf Board in order to "reclaim and re-register the encroached properties of the Waqf Board" is also being made.
Infrastructure and Welfare
The party promised to protect and allot land for Muslim and Christian Graveyards.
The Congress also vowed to provide a house site and Rs 5 lakh for the construction of a house for all houseless minority families under the Indiramma Indlu Scheme.
The party also promised to provide Rs. 1,60,000 to newlywed couples of Muslims, Christians, Sikhs, and other minorities.
Under promotion of 'Inclusivity and growth'
The party promised to revitalise SETWIN and transform the Quli Qutub Shah Urban Development Authority (QQSUDA) to develop infrastructure in the Old City.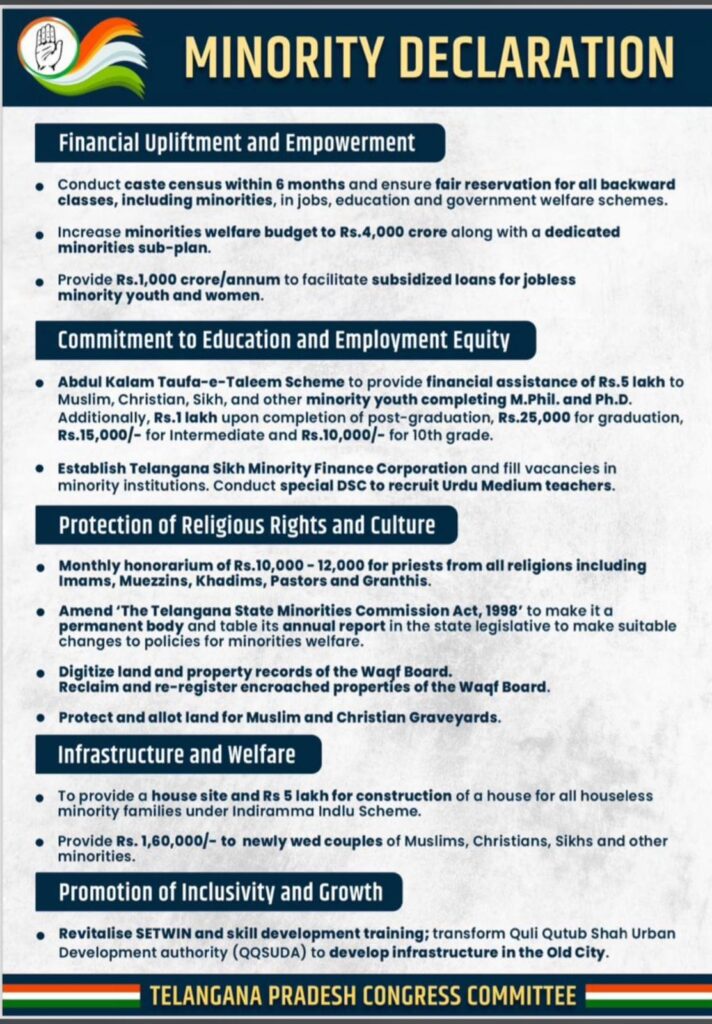 ---