Hyderabad: The Jana Sena party (JSP) will contest 8 seats in the upcoming Telangana Assembly elections end of November, the party announced on Tuesday, November 7.
The party will contest the polls as the BJP's alliance partner.
The party nominated its candidates from Kukatpally, Tanduru, Kodad, Nagar Kurnool, Khammam, Kothagudem, Wyra (ST), and Aswaraopeta (ST).
There were several reports suggesting that the JSP will also field a candidate from Serlingampally. But the party is going to contest only from 1 seat in Hyderabad- Kukatpally.
Here's the list of candidates:
Kukatpally- Mummareddy Prem Kumar
Tanduru- Vemuri Shankar Goud
Kodad- Mekala Sathish Reddy
Nagar Kurnool- Vanga Lakshma Goud
Khammam- Miryala Ramakrishna
Kothagudem- Lakkineni Surendar Rao
Wyra- Dr Tejavath Surendar Rao
Aswaraopeta- Muyaboina Umadevi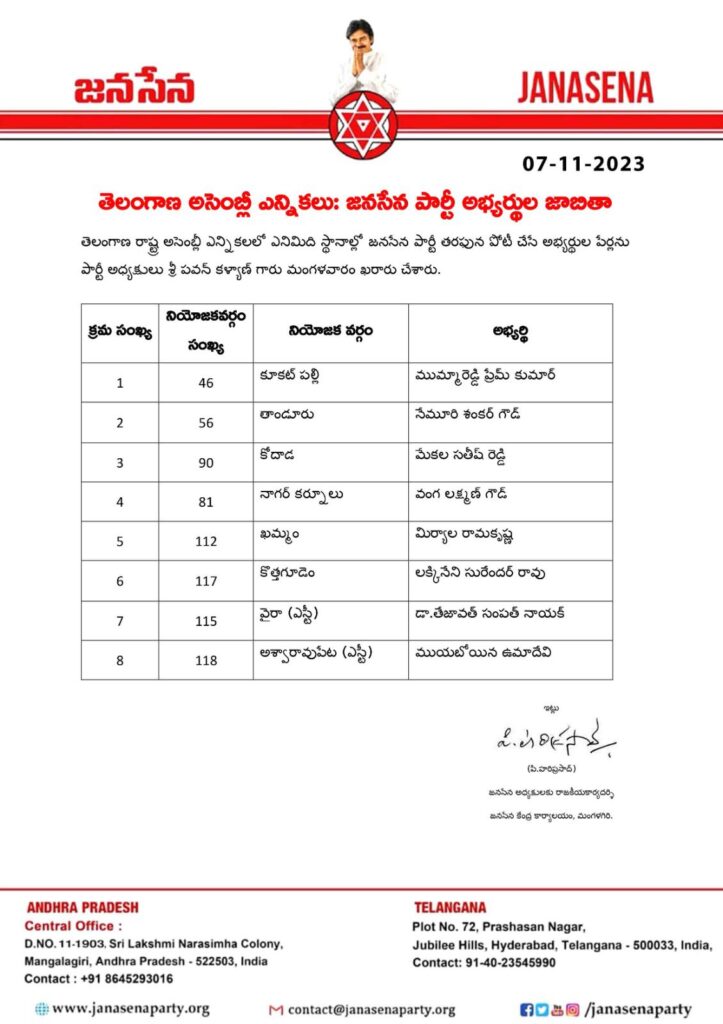 The announcement comes hours after the Prime Minister's massive meeting in Hyderabad in which the JSP chief shared the dias and delivered a speech.
Telangana is going to the polls on November 30.
---