Mumbai: Bollywood actor Alia Bhatt, who recently started her business venture, Ed-a-Mamma, has joined hands with Reliance Industries-owned Reliance Retail Ventures Limited (RRVL).
Announcing the partnership, Alia on Wednesday took to Instagram and wrote, "Delighted to share that Ed-a-Mamma and Reliance Retail Ventures Ltd have entered into a joint venture. Ed-a-Mamma is a bootstrapped venture with a big heart. Reliance Retail is India's largest retailer. What we have in common is our dream to continue the work of building a homegrown, vocal-for-local brand of children's products that are safe, parent-friendly and planet-friendly. On a more personal note, for Isha and me, this is also about two moms coming together. That just makes it so much more special."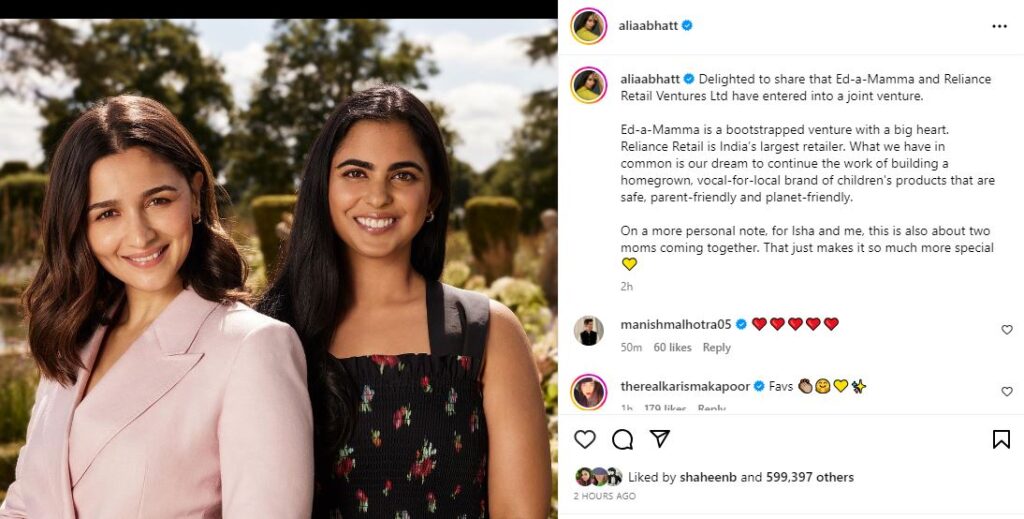 RRVL will own the majority stake of 51 per cent as it plans to expand and grow the kids and maternity-wear brand in all aspects, as per a statement. The partnership will see the brand grow into new categories such as personal care and baby furniture, children's story books and an animated series.
Ed-a-Mamma founded by Alia Bhatt in 2020 as an apparel brand for 2–12 year-olds, resonated deeply with both young parents and children through its emphasis on natural fabrics and nature themes all designed to inspire a love of nature among children. From its online debut to its offline presence in department stores, Ed-a-Mamma quickly established itself as a favored choice among discerning consumers.
In a significant stride last year, the brand expanded its range to include maternity-wear which was thoughtfully timed to coincide with Alia Bhatt's pregnancy which was soon followed-up with a line for infants and toddlers – further demonstrating the brand's versatility.
On the same, Isha Ambani, Director, Reliance Retail Ventures Limited, said, "At Reliance, we have always admired brands that lead with a strong purpose and embody a unique design ethos exemplified perfectly by Ed-a-Mamma and its founder Alia Bhatt. With sustainability as its core proposition the brand has garnered acclaim for its meticulous attention to detail, using ethically sourced materials and eco-conscious production processes. This aligns seamlessly with Reliance Brands' vision of fostering a more responsible future for the fashion industry."
"Alia's daughter and my twins are two weeks apart and we pretty much went through our pregnancies at the same time coincidentally wearing Ed-a-Mamma maternity, and now dressing our children in Ed-a-Mamma kidswear, which they love! So, this is special – The product, brand and the partnership are especially close to my heart," she added.
With the collaboration, Alia is looking forward to taking "Ed-a-Mamma to many more kids and parents and continuing to inspire a love for nature through everything we do."
"Isha and I found a wavelength as two new moms discussing what mothers want. I told her what we were already doing at Eda-Mamma and how there's scope to do so much more. She said Reliance can bring strengths in everything from supply chain to retail to marketing. With this joint venture, we look forward to taking Ed-a-Mamma to many more kids and parents and continuing to inspire a love for nature through everything we do," Alia said.
---