Mumbai: As the two legends once again collaborate on the big screen, megastars Rajinikanth and Amitabh Bachchan have now wrapped up the Mumbai schedule for their upcoming outing 'Thalaivar 170'.
The movie's production house Lyca Productions announced the film's Mumbai shoot completion on their X handle. Sharing a picture of Thalaivar and Big B together from a behind-the-scenes picture of the movie, the studio wrote: "When Superstar and Shahenshah met on the sets of #Thalaivar 170. Reunion on screens after 33 years! #Thalaivar 170 is gonna be a double dose of legends! @rajinikanth @SrBachchan. Done with MUMBAI Schedule".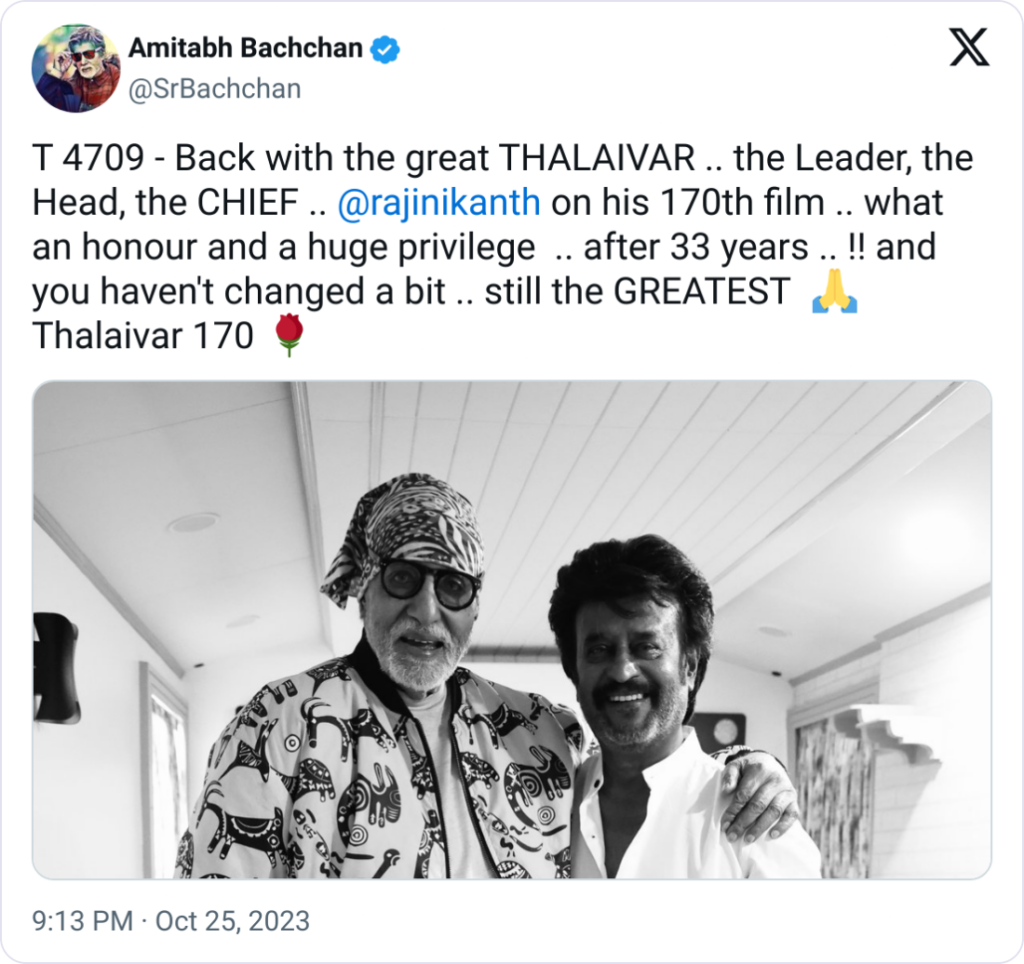 Earlier this month, Rajinikanth shared a picture of himself with Amitabh Bachchan. Standing side by side and smiling, Rajinikanth had expressed great joy upon once again working with the Bollywood's 'Angry Young Man'.
Captioning the post, he wrote: "After 33 years, I am working again with my mentor, the phenomenon, Shri Amitabh Bachchan in the upcoming Lyca's 'Thalaivar 170' directed by T.J Gnanavel. My heart is thumping with joy!"
In addition, Big B had also later taken to Instagram and posted a bts picture of himself on the film set holding a magnifying glass. He captioned the post: "Trying to magnify the moment. First day of work after 33 years with THE THALAIVAR, RAJINIKANTH sirrrrr (sic)".
Amitabh Bachchan had also shared the picture of the two in black and white on his X and expressed great joy at reuniting with the Tamil megastar. Captioning the picture, he had written: "T 4709 – Back with the great THALAIVAR .. the Leader, the Head, the CHIEF .. @rajinikanth on his 170th film .. what an honour and a huge privilege .. after 33 years .. !! and you haven't changed a bit .. still the GREATEST. 'Thalaivar 170'"
Prior to the upcoming film, Big B and Thalaivar last worked together in the Hindi film 'Hum', directed by Mukul Anand which was released in 1991. 'Hum' was a massive rage in the 1990s and a huge success, receiving great acclaim from critics, viewers, as well as a big box office.
The movie, which starred Rajinikanth, Amitabh Bachchan, Govinda, Anupam Kher, Kimi Katkar, Deepa Sahi, Shilpa Shirodkar, Danny Denzongpa, and Kader Khan in pivotal roles, also lead to the Thalaivar's 1995 classic 'Baasha', as it employed several unused plot points from the original script of 'Hum'.
'Hum' is also very well remembered for its song 'Jumma Chumma De De'. 'Baasha' is also well known for two of its classic tracks 'Naan Autokaaran', and 'Style Style Thaan'.
Since the announcement of the new mystery project, immense excitement is raging across India as audiences from Mumbai to Chennai are frantic to see the two legends come together on the big-screen.
Apart from these two legends, the film will also star Fahadh Faasil, Rana Daggubati, Manju Warrier, Ritika Singh and Dushara Vijayan. With music by Anirudh Ravichander, the film will hit theatres in 2024.
---