Mumbai: In recent times, it has become increasingly common for actors to find themselves caught up in the whirlwind of boycott trends. The latest celebrity to face this unsettling phenomenon is none other than the Bollywood superstar, Shah Rukh Khan. With the release of his upcoming movie, 'Jawan,' just around the corner on September 7, the hashtag #BoycottJawanMovie has started trending on Twitter, and there are multiple reasons behind this online outcry.
Shah Rukh Khan and his daughter Suhana Khan visited the Tirupati temple very early on Tuesday morning to seek blessings. But not everyone on social media is happy about it. A section of netizens are slamming SRK for visiting Tirupati temple before the film's release. Many are calling it a 'publicity gimmick' and not actual devotion.
Another key factor fueling the boycott movement revolves around Tamil Nadu's prominent politician, Udhayanidhi Stalin. 'Jawan,' is set to be distributed in Tamil Nadu by Red Giant Movies headed by Udhayanidhi.
Udhayanidhi Stalin, who is a Tamil Nadu minister for youth welfare and sports development, also actively engages in the film production industry. Trouble began when he recently delivered a speech that was deemed offensive towards a specific religious community. Check out some of the tweets below.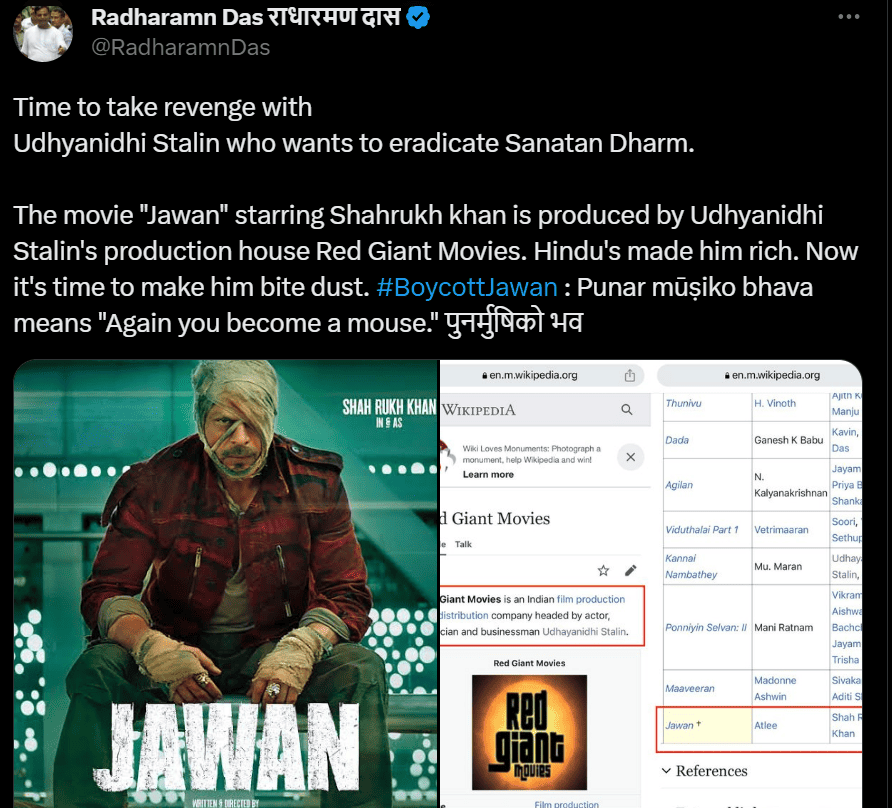 Some social media users are also connecting this boycott trend with Sushant Singh Rajput's death case and are calling for complete boycott of Bollywood.
As the release date of 'Jawan' looms nearer, the situation remains tense, with social media platforms abuzz with debates and discussions surrounding the film and the boycott movement. SRK fans, on the other hand, are confident that, just like 'Pathaan,' 'Jawan' too will achieve the remarkable 1000 crore milestone, despite facing the boycott trend.
---