Mumbai: 'Love Dose' fame Urvashi Rautela's love for cricket is known to all. The actress recently announced that she had lost a 24 carat real gold iPhone while watching a match between India and Pakistan. The high voltage match was played at Narendra Modi Stadium in Ahmedabad on October 14.
Urvashi had also lodged a complaint with Ahmedabad Police and shared it on her Instagram. Taking to her social media handle, she shared the news and wrote, 'Lost my 24 carat real gold iphone at Narendra Modi Stadium, Ahmedabad! If anyone comes across it, please help. Contact me ASAP!'.
The actress has received an email from a fan who stated to have found her lost iPhone. It is also reported that the fan who found the phone has set the conditions before handing it to the actress.
Yes, the email was sent from Groww Traders email id and it reads, "I have your phone" and the message written was, "I have your phone. If you want it, you will have to help me save my brother from Cancer."
Urvashi, who shares everything with her fans, shared a screenshot of the email on her Instagram story. The actress didn't write anything without a simple thumbs-up emoji.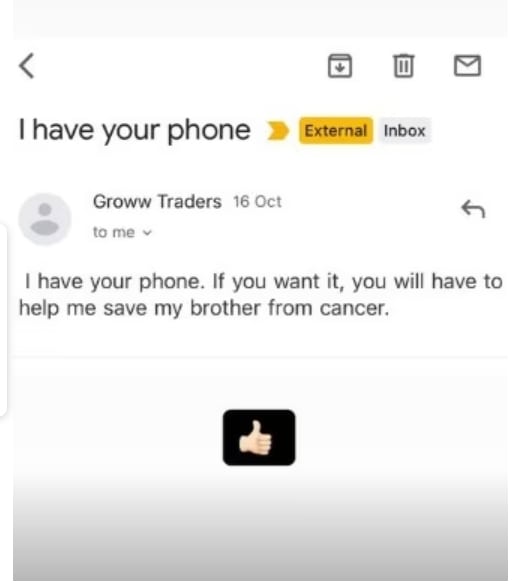 On the professional front, Urvashi will be next seen in Dil Hai Gray and Black Rose.
---