Hyderabad: 'Jawan' fever is the talk of the town! This upcoming Bollywood movie, starring the very charming Shah Rukh Khan, is set to make cinematic history by becoming the first Hindi film to grace the early morning screens of Hyderabad. Yes, you read that right!
Typically reserved for Telugu films, the early morning shows in the city have long been a cherished tradition, with screenings starting as early as 4 am or 6 am.
However, the SRK Hyderabad fan club, associated with SRK Universe, the largest Shah Rukh Khan fan club in the world, is breaking new ground by organizing an early morning show for 'Jawan'. Check out the details below.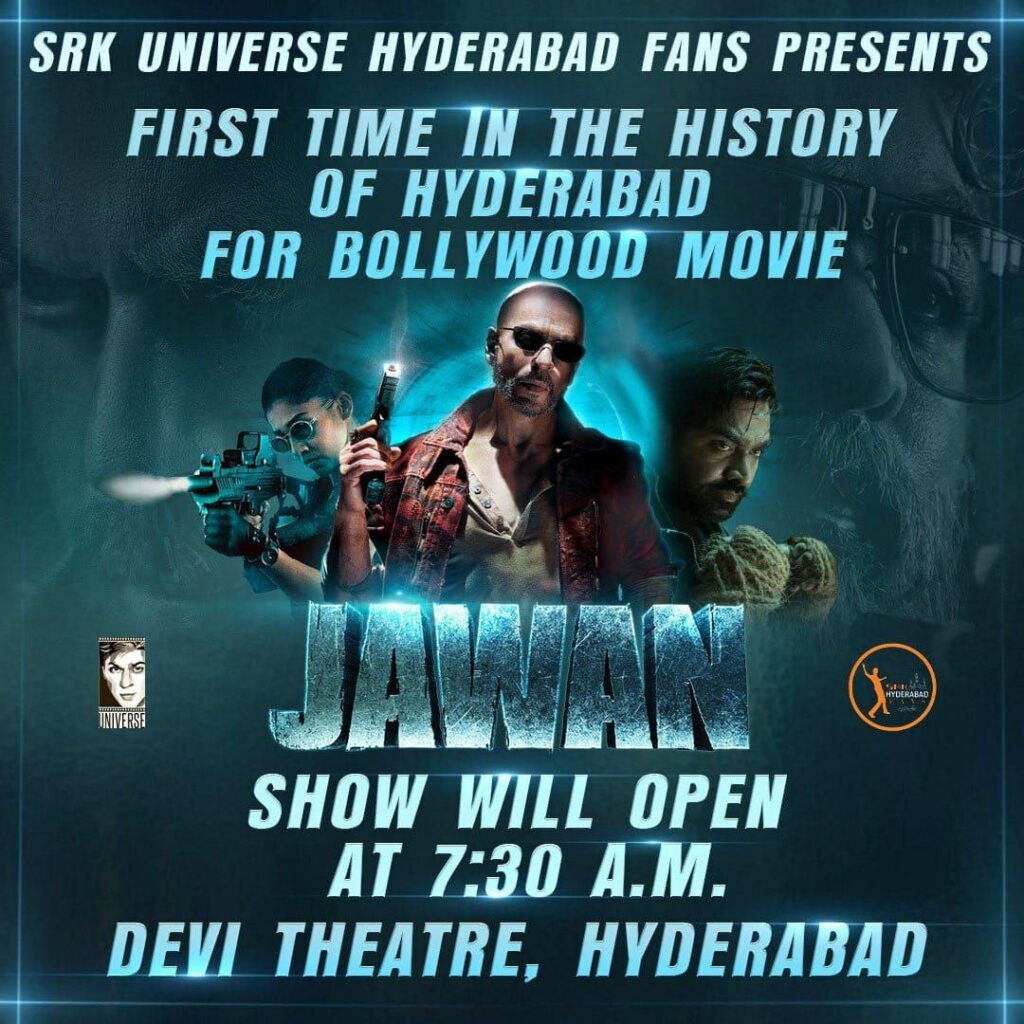 Jawan FDFS Timings, Theatre Name, Ticket Prices
Timings — 7.30 am
Venue — Devi Theatre, RTC Cross Roads
Ticket Prices — Rs 250, Jawan T-shirts will be given to fans
The enthusiasm for this special screening has been nothing short of phenomenal, with over 700 tickets already snapped up for the First Day First Show (FDFS) event.
Speaking to Siasat.com, Chandu, one of the organizers of event said, "Shah Rukh Khan is not only a superstar but an emotion for us. SRKHydFans fanclub has been actively doing events and celebrating the King Shah Rukh Khan and connecting South India SRK fans since 14years. Everything we do is out of our pure love & respect for the big man (SRK) on screen and his off screen persona."
He also opened up about the overwhelming ticket sales response, underlining the tremendous support and excitement from fans in Hyderabad and beyond.
"We've already sold more than 700 tickets, so you can understand how massive this event will be. The excitement of over 700 fans watching the movie together creates an amazing atmosphere that words can't describe; you have to be there to feel it," Chandu added.
The fantastic response from SRK fans in Hyderabad is truly heartening. What's even more exciting is that Shah Rukh Khan's team from Red Chillies Entertainment will be capturing this historic 7.30 am show!
"This event in Hyderabad is set to become a part of a documentary video produced by Red Chillies, and this is an incredibly meaningful moment for us," Chandu said.
If you too want to be part of this early morning Jawan FDFS in Hyderabad, reach out to below given number for more details and block your seats right away.
Contact Number – 9110580182
Twitter – @SRKHydFans
---