Hyderabad: India is in a celebratory mood following the victory of its cricket team in the Asia Cup 2023 Finale. The Indian squad showcased a remarkable performance, defeating Sri Lanka, who could only manage 50 runs in the finals.
Standing out amidst the victory is Mohammed Siraj, who has become the star player of the hour, not only winning the audience's applause but also capturing the attention of celebrities.
Siraj, stole the spotlight by creating history and becoming the first Indian cricketer to take an astounding four wickets in a single over in international cricket.
Renowned filmmaker SS Rajamouli lauded Siraj's exceptional performance, and now, Bollywood actress and Virat Kohli's wife Anushka Sharma's Instagram story praising the star bowler is gaining widespread attention.
Sharing Mohammed Siraj's photo on her Instagram story post India's big win, Anushka wrote, "Kiya bata hai Miyan! Magic!!"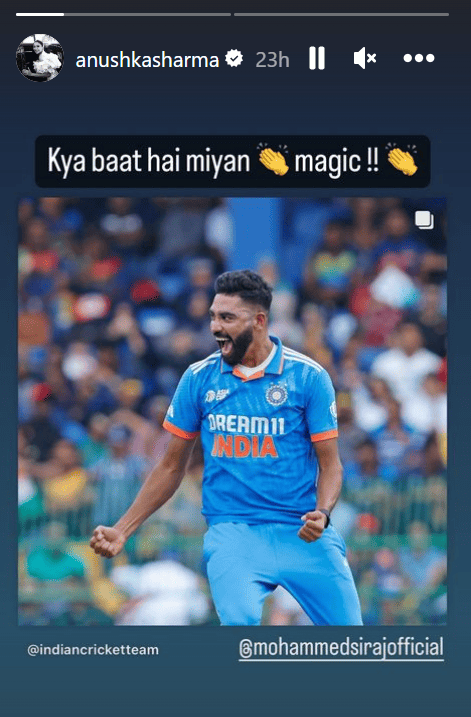 Other celebs including Shraddha Kapoor, Mahesh Babu, Sidharth Malhotra, Vicky Kaushal too took to their social media handles to congratulate Siraj and the whole team India.
The cricketing world and fans continue to celebrate India's victory, with Siraj's remarkable achievement taking center stage.
---