Mumbai: Mrunal Thakur has become a well-known figure in the entertainment industry, garnering popularity over time and she is often spotted with various top celebrities nowadays. The actress started her career with soap opera and is currently among popular Bollywood actresses.
Mrunal made her Hindi debut with Love Sonia in 2018 and since then she appeared in various Hindi films. The actress has been seen promoting her film 'Pippa' on various platforms. Apart from films, the actress has started making headlines for her personal reasons too.
Recently, rumours were rife that Mrunal is getting married to a Telugu boy. However, she debunked all the gossips on her social media.
In the latest, she was spotted with top rapper and songwriter Badshah while both went to attend Shilpa Shetty's Diwali party. The video of Mrunal and Badshah is taking the the internet by storm as they were spotted holding hands of each other while exiting Shilpa's Diwali bash late at night.
Also Read
Rashmika at Vijay Deverakonda's Hyd home on Diwali – Photos
The video has been shared on the social media application Reddit and Mrunal is seen exiting the party with Badshah. The actress also shared a bunch of photographs on her Instagram Stories and one among them was from Shilpa's Diwali party which features Badshah. The actress called Shilpa Shetty and Badshah as her "two favourites' '.
After the video and pictures went viral, fans speculated that Mrunal Thakur is dating Badshah. In the Diwali party Mrunal was seen in an olive green ethnic outfit while Badshah was seen wearing an all-black traditional ensemble.
Checkout the video and picture below.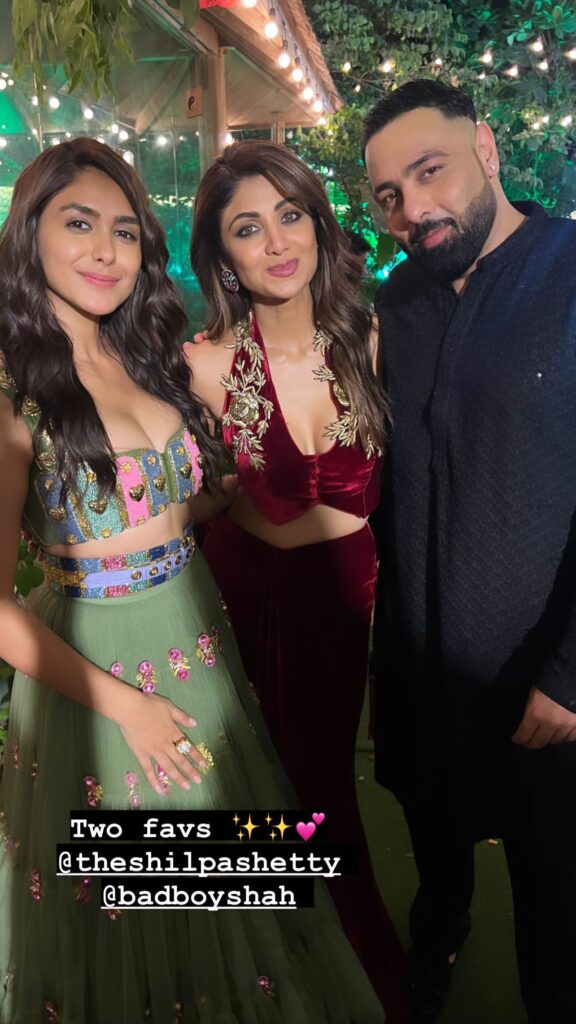 ---