Islamabad: Pakistani actress Hania Aamir, who is widely recognized for her talent and beauty, gained fame through popular dramas like 'Mere Humsafar' and 'Mujhe Pyaar Hua Tha.' She has been lately in the spotlight due to rumors about her relationship with Pakistani cricketer Babar Azam.
Known for her impressive acting skills, Hania's alleged connection with Babar has captured the attention of fans and media alike.
Speculations have grown stronger, fueled by fan edits and videos circulating on social media depicting the duo as a potential couple. Gossip mills also suggest that Babar and Hania might get married soon.
The rumours intensified after a manipulated photo of Hania and Babar started circulating online. The original picture features Hania and her co-star Wahaj Ali which was clicked during Mujhe Pyar Hua Tha shoot. Check it out below.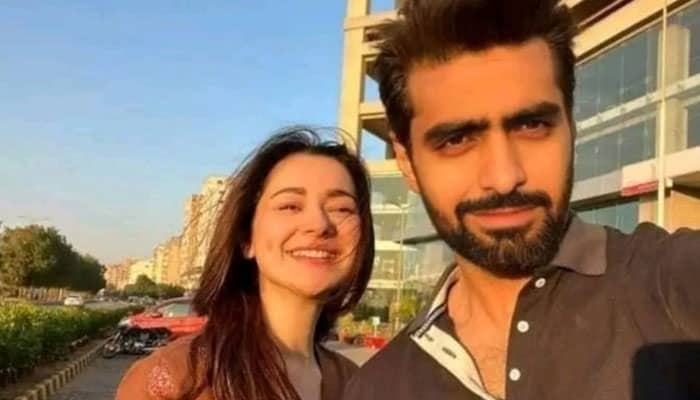 Eagle-eyed netizens have also pointed out that both celebrities have openly praised each other on public platforms. In various interviews, Hania and Babar expressed their admiration for one another, adding fuel to the speculations.
Fans have actively engaged in the discussion, flooding Hania Aamir's Instagram posts with comments, with some going as far as referring to her as 'Babar's wife.'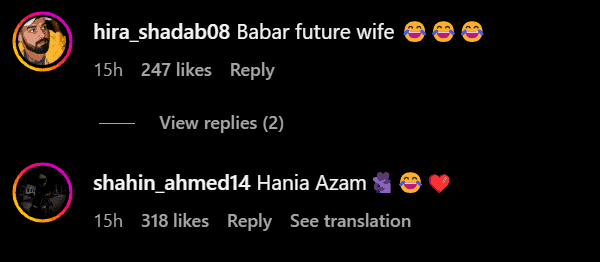 The excitement reached a peak during the World Cup matches when reports hinted at Babar Azam's impending marriage. It was even rumored that he had done his wedding shopping in India, allegedly purchasing a lavish sherwani from renowned Indian designer Sabyasachi.
However, it's crucial to note that as of now, there has been no official confirmation regarding the relationship or any impending nuptials. The mystery surrounding Hania Aamir and Babar Azam's connection continues to capture the curiosity of fans, awaiting official word from the celebrities themselves.
---