Mumbai: Rakhi Sawant's ongoing feud with husband Adil Khan Durrani and her recent Umrah pilgrimage have been grabbing a lot of headlines lately. However, controversy has surrounded her visit to Makkah and Madinah, with many accusing her of using Islam for a publicity stunt. Actress Gauahar Khan too had indirectly criticized Rakhi by stating that wearing 'horrendous-looking' abayas doesn't define one's faith as a Muslim.
Rakhi Sawant has now responded to Gauahar Khan's comments during a recent media interaction. She issued a warning to Gauahar, saying, "Jisne bhi mujhe yeh kaha hai, kya woh Islam ya Muslim khaum k theke daar hain? Aap log baar baar mujhe tokte hain, mein Umrah karne gayi woh drama hai, mein abaya pehenti hun woh drama hai. Heloo…suno idar baat meri. Rakhi Sawant ka asli roop dikhane pe majboor mat karo."
She further added, "Mein Umrah jaake aayi hun, hadh mein reh rahi hun. Mujhe chedho mat. Jis din mujhe chedoge, mein tumko chodungi nahin. Soti hui naagin ko jagao math" Check out the video below.
A few days ago, Gauahar Khan called out Rakhi Sawant and even accused her of 'insulting Islam'. Through her cryptic social media post, the Tandav actress also demanded board of Islam in India or Saudi to take strict action against her.
"N then there are losers taking Islam for granted n making a joke out of this holy pilgrimage which is sooooooo sacred to believers of Islam. I wonder how a drama-hungry person gets to visit and use it to create more drama ??? One minute u have accepted Islam , the next minute" oh I didn't do it willingly " .. what bull shit. U don't deserve to understand the beauty of Islam if u can discard it n accept it when' it suits your publicity-hungry stunts! Shameless creatures," Gauahar wrote.
"I wish a board of Islam in India or Saudi takes strict action against such publicity stunts, so people can't exploit something sacred! N by the way wearing horrendous-looking abayas doesn't make you Muslim, having akidah n understanding the 5 pillars of Islam, being a good human being, being a true human being, and love of Allah makes u a Muslim. Any Faith is in the heart, you don't need 59 cameras to showcase it. #micdrop," she added.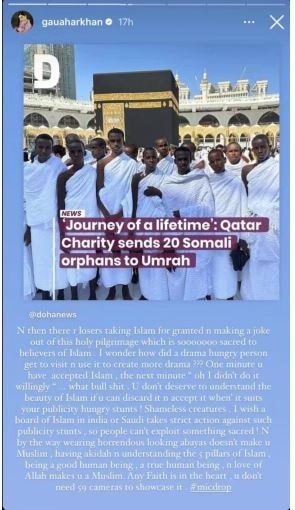 ---