Mumbai: Shehnaz Lalarukh Khan, sister of Bollywood superstar Shah Rukh Khan, remains mostly unseen in the public eye. Despite her low profile, she occasionally joins family events hosted by SRK and Gauri Khan, adding a touch of family warmth to the star-studded gatherings.
While not as well-known as her famous brother, Shehnaz Lalarukh Khan's discreet presence continues to pique the curiosity of fans eager to learn more about this private member of the Khan family.
In the latest rare appearance, Shehnaz attended Arpita Khan and Aayush Sharma's Diwali celebration along with SRK, Gauri and their manager Pooja Dadlani. A video of her exiting the venue with brother and sister-in-law is going viral on Instagram.
The rare sighting of Shehnaz Lalarukh Khan has created a buzz on social media, with many users noting her resemblance to SRK's daughter, Suhana Khan. Social media is abuzz with comments dubbing Suhana as "Lalarukh Khan's carbon copy."


Some social media users even failed to recognise her. 'Who is she?' asked many. Check out the comments below.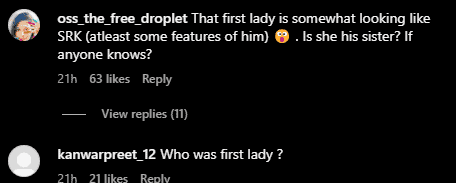 While Shahnaz tends to stay away from the limelight, her occasional appearances at gatherings draw attention from fans eager to catch a glimpse of the lesser-known member of the Khan family.
Speaking more about SRK's family, the superstar was 15 years old when his father Meer Taj Mohammed Khan passed away due to cancer. He was 26 when he lost his mother Lateef Fatima Khan from complications of diabetes.
---