Mumbai: Bigg Boss 14 winner and popular TV actress Rubina Dilaik has amassed a huge fan following across India and is one of the finest female stars in telly ville.
The actress keeps her fans updated and informed about her activities on social media and is known for schooling the trolls too. In the latest, Rubina again called out trolls after her post related to Diwali did not go well with the netizens.
Rubina Dilaik, actually asked people to stop bursting fire crackers citing air pollution level in the country. She said that Diwali is over now and people should stop bursting crackers now. She said that the same leads to air and noise pollution and it affects others' sleep too.
Taking to Twitter, Rubina wrote, "To whomsoever it may Concern! Diwali is OVER, Stop bursting crackers ….. since 10th November, non stop crackers are being burnt till 3am in the morning ……. ENOUGH NOW…. Air pollution toh hai hi …. Noise pollution is killing our sleeps ….."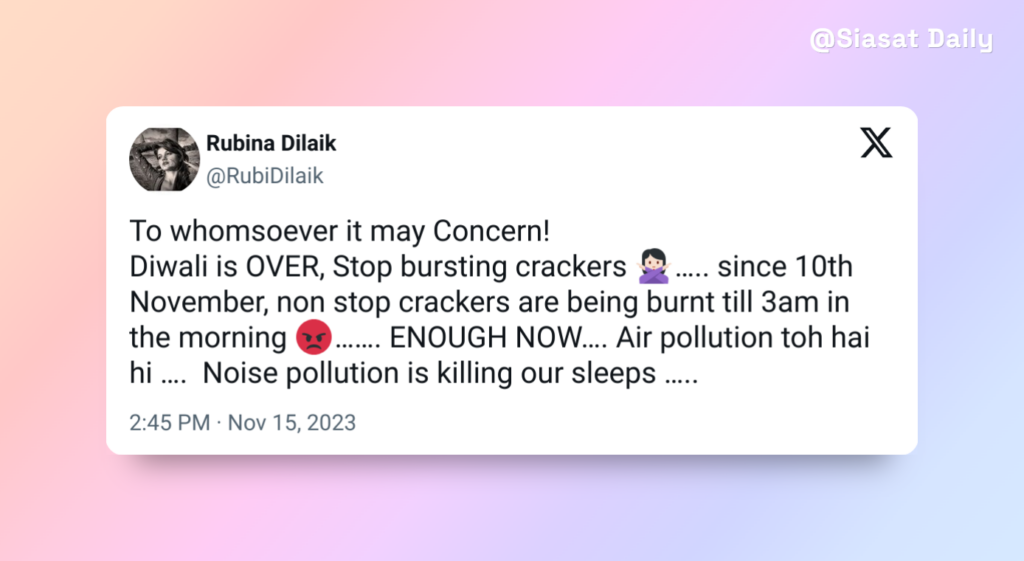 Rubina Dilaik's post did not go well with the internet users and they found it offensive. Some of the users asked Rubina to delete her rweet which they find anti – Hindu while others asked her to not give GYAN on Hindu festivals.
Moments after Rubina got trolled by a section of internet users, she took to her Twitter handle again and called out the trolls. Sharing a snapshot of the comments under her post, Rubina addressed the haters saying they were out of their mind. She said she is not giving gyan. She wrote, "Don't come and comment on my Instagram….. its NOT GYAN , Mr. Intelligently Dumb Vipul Shrisath! Aapse se zyaada hum tyohaar manaatein hain, par doosron ko takleef dekar nahi …." She also shared the screenshot of the comments on Twitter.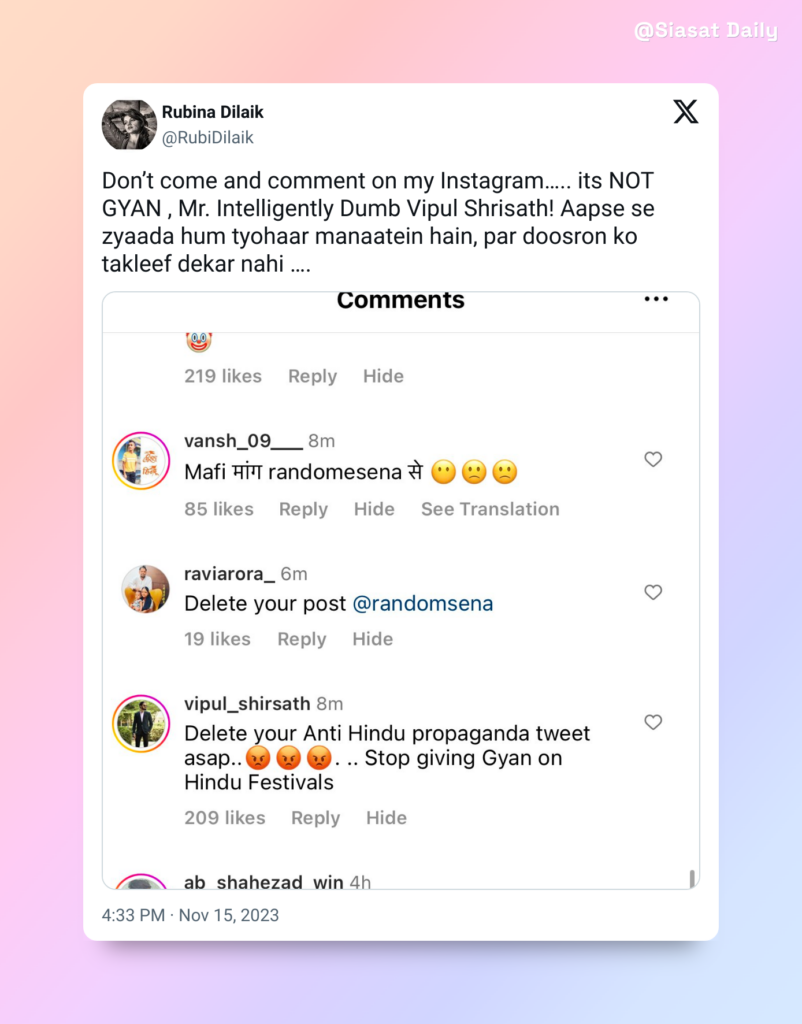 To make people clear what her old Tweet meant, the actress reshared her previous Tweet and wrote, "Diwali, is a festival of lights, celebration of Shree Ram returning to Ayodhya! Well, Ramayan mein bursting crackers for 10 days was never mentioned, So all you Pseudo Hindu propaganda agents, Go and find someone ELSE to highlight your paid accounts and fake ids! Dare NoT".
Check out it below.
---