Mumbai: Superstar Salman Khan on Saturday made an appeal to his fans and asked them not to reveal spoilers from his much-anticipated film "Tiger 3", which releases on Diwali.
The Yash Raj Films project, directed by Maneesh Sharma, is a sequel to the 2017 film "Tiger Zinda Hai". It also stars Katrina Kaif and Emraan Hashmi, while Shah Rukh Khan will make a special appearance as Pathaan.
There have also been reports of Hrithik Roshan reprising his role of Kabir from "War" movie.
"We have made #Tiger3 with a lot of passion & we are counting on you to protect our spoilers when you see the film. Spoilers can ruin the movie-watching experience. We trust you to do what is right. We hope #Tiger3 is the perfect Diwali gift from us to you," Salman posted on microblogging site X.
His co-stars, Katrina and Emraan, also asked the fans to not spoil the film for others.
"The plot twists & surprises in #Tiger3 adds to the movie-watching experience of the film! Thus, we request you to not reveal any spoilers. The power is in your hands to protect our labour of love so that it can deliver the best entertainment to people. Thank you and Happy Diwali," she said.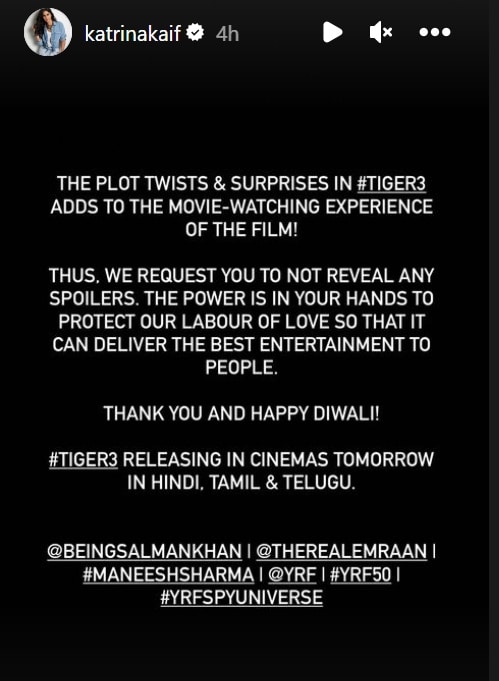 The Bollywood star has reprised her role of a former ISI agent Zoya in the much-anticipated movie.
Hashmi, who plays the antagonist in the movie, said the film has "countless secrets" and the team trusts the fans to keep them safe.
"Please don't reveal any spoilers as it will hamper the experience of watching the film in theatres. We have worked really hard to make #Tiger3 & we know you will support us fully! Happy Diwali," the actor posted.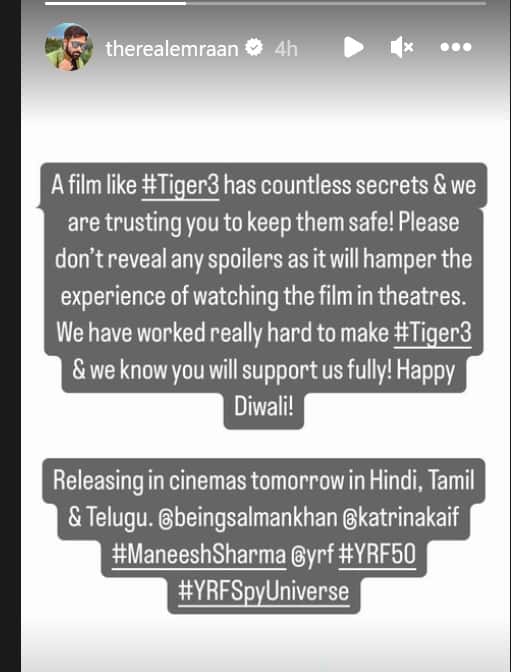 "Tiger 3" will be released on Sunday in Hindi, Tamil & Telugu.
Set after the events of "Pathaan", the film will see Salman's titular spy race against time to save both his family and country.
The movie marks the fifth film in the YRF Spy Universe, conceptualised by studio head Aditya Chopra
---