Hyderabad: Sania Mirza and Shoaib Malik have been making headlines for a while now due to ongoing rumors about their separation. Speculations are rife that they have already parted ways and are living separately. However, their recent appearance celebrating their son's birthday together has sparked curiosity and brought smiles to fans.
Izhaan Mirza Malik, the adorable son of the couple, turned a year older, and both Sania and Shoaib were seen celebrating his special day. Shoaib Malik took to Instagram to share glimpses of Izhaan's fifth birthday party. The shared photos captured heartwarming moments with the father-son duo joyfully posing in front of a birthday cake. Sania Mirza was also spotted in the background, holding Anam Mirza's daughter Dua.
While the pictures suggest a united front in celebrating their son's milestone, there's ongoing speculation that Sania and Shoaib might be co-parenting their son amid separation. However, the couple has not officially addressed or confirmed any details regarding their relationship status.
Fans and well-wishers have expressed joy at the sight of the family coming together to celebrate Izhaan's birthday, and many remain hopeful for positive developments in the relationship between Sania Mirza and Shoaib Malik.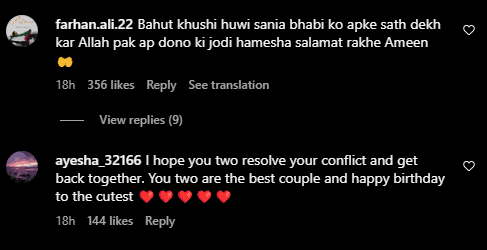 Sania Mirza and Shoaib Malik got married in 2010 and welcomed a baby boy, Izhaan Mirza Malik, in 2018.
---