Hyderabad: Imagine the excitement of watching a movie in a theatre with the leading superstar himself seated right next to you. Well, that dream might soon become a reality as a recent tweet from AMB Cinemas in Hyderabad has sparked rumors that Shah Rukh Khan and Tollywood superstar Mahesh Babu could be catching a screening of former's upcoming movie 'Jawan' at their theatre together.
Oh My God! Yes, you read that right!
It all began when Mahesh Babu expressed his support for 'Jawan' ahead of its release and mentioned his plans to watch it with his family. Taking to Twitter, he wrote, "It's time for #Jawan!!! The frenzy and power of @iamsrk are on full display!! Wishing the team an all-time blockbuster success across all markets! So looking forward to watching it with the entire family!!"
This tweet caught the attention of Shah Rukh Khan, who responded by saying, "Let me know when you are watching; I will come over and watch it with you."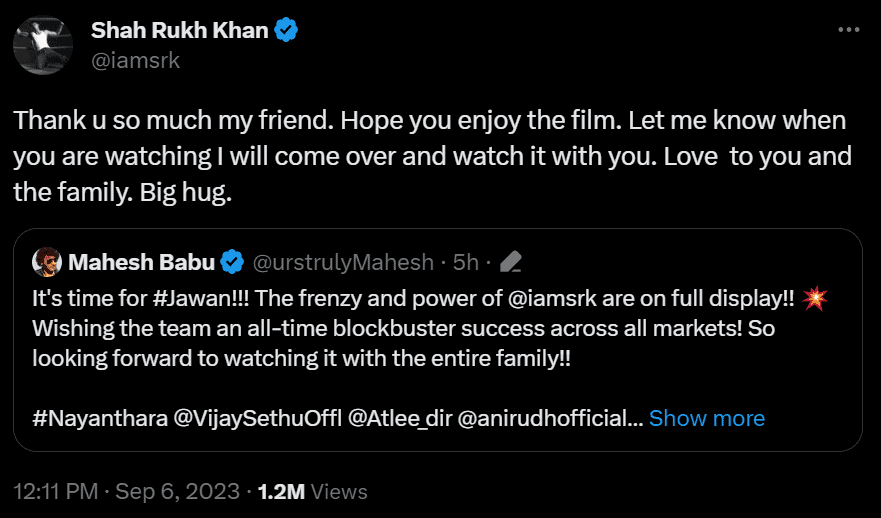 This interaction between the two superstars sent fans into a frenzy.
The excitement escalated further when AMB Cinemas (Gachibowli), owned by Mahesh Babu himself, joined the conversation. They tweeted, "Where else would the Superstars watch the film? Tickets booked sir! :)"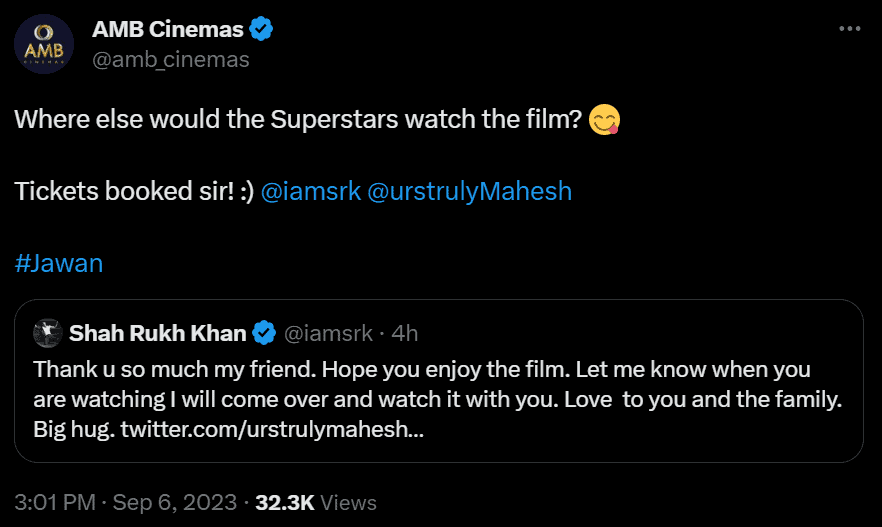 This tweet strongly hinted that tickets have already been reserved for both Shah Rukh Khan and Mahesh Babu at AMB Cinemas, adding fuel to the anticipation. Well, let's wait and see if King Khan will indeed visit the city to watch his own movie!
Jawan is set to hit the screens tomorrow on September 7. It is directed by Tamil industry's star director Atlee. Jawan stars Nayanthara and Vijay Sethupathi in the important roles.
---