Hyderabad: Bollywood superstar Shah Rukh Khan shares a deep love for Hyderabad and it is no secret. During an Ask SRK session on Twitter recently, he even shared his childhood memories here and his tweet quickly went viral among fans in the city, spreading like wildfire. And now, his latest social media post on Hyd is sure to grab the attention of his fans here!
Taking to his micro-blogging site on Monday, SRK expressed his gratitude towards his Hyderabadi fans for their overwhelming love and support for his latest movie, Jawan. The theatres in Hyderabad have transformed into lively concert venues ever since Jawan hit the screens in the city.
The excitement among fans was so intense that Shah Rukh Khan's fan club in Hyderabad shared videos of the ecstatic crowd on Twitter. They described the scene as, "MASS HYSTERIA at #Hyderabad as the crowd goes berserk for Jawan #ZindaBanda, and WE LOVE SHAH RUKH chants echoed throughout the theater!"
Surprisingly, Shah Rukh Khan himself acknowledged the frenzy and responded to the fan club's tweet. In his response, he wrote, "Loving the frenzy!!! But be safe and gentle with each other while having fun…. Thank u Hyderabad!!!"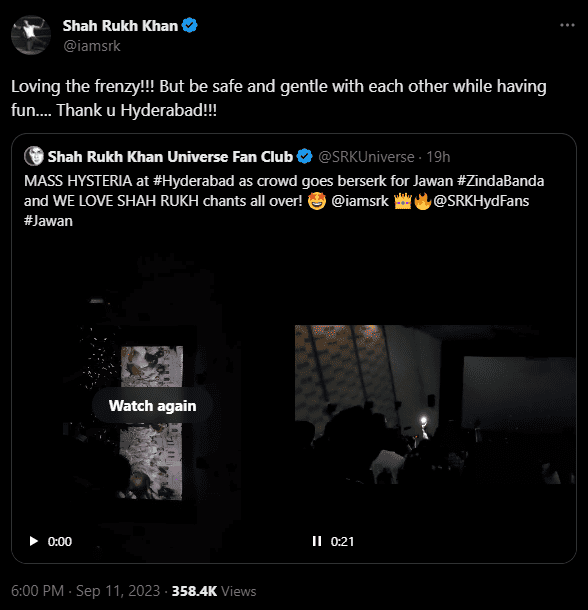 In case you didn't know, Shah Rukh Khan's mother, Lateef Fatima Khan, was originally from Hyderabad. She was deeply involved in social work in the city. Moreover, Fatima was the daughter of a senior government engineer in Hyderabad. King Khan also once shared that he lived in Tolichowki for four years during his childhood. The superstar even calls himself as 'half Hyderabadi'.
Also Read
'Spent 4 years of my life in Tolichowki,' SRK recalls special bond with Hyderabad
---