Mumbai: Actress Rakhi Sawant has found herself at the center of a new controversy following her recent Umrah trip. The trip, which she undertook with her Rakhi brother Waahiid Ali Khan and sister-in-law Shaista, has sparked heated debates on social media platforms.
Rakhi Sawant, who performed her first Umrah last week, has been a subject of scrutiny for her attire and behavior since her return to Mumbai. Several photos and videos of her wearing fancy burqas and heavy makeup during public outings have circulated on the internet.
This has led to a barrage of criticism from some social media users who are accusing her of disrespecting Islam and many are terming her Umrah as a 'publicity stunt'.
Actress Gauahar Khan too expressed her disapproval on social media. In a strongly worded post, Bigg Boss 7 winner called Rakhi Sawant as a "shameless creature" and accused her of insulting Islam.
Taking to Instagram, Gauahar wrote, "N then there are losers taking Islam for granted n making a joke out of this holy pilgrimage which is sooooooo sacred to believers of Islam. I wonder how did a drama-hungry person get to visit n use it to create more drama ???"
She further wrote, "One minute u have accepted Islam, the next minute" oh I didn't do it willingly" .. what bullshit. U don't deserve to understand the beauty of Islam if u can discard it n accept it when' it suits your publicity-hungry stunts! Shameless creatures. I wish a board of Islam in India or Saudi take strict action against such publicity stunts, so people can't exploit something sacred!"
Commenting on Rakhi's abayas episode, Khan added, "N by the way wearing horrendous looking abayas doesn't make u Muslim, having akidah n understanding the 5 pillars of Islam, being a good human being, a true human being, n love of Allah makes u a Muslim. Any Faith is in the heart, u don't need 59 cameras to showcase it."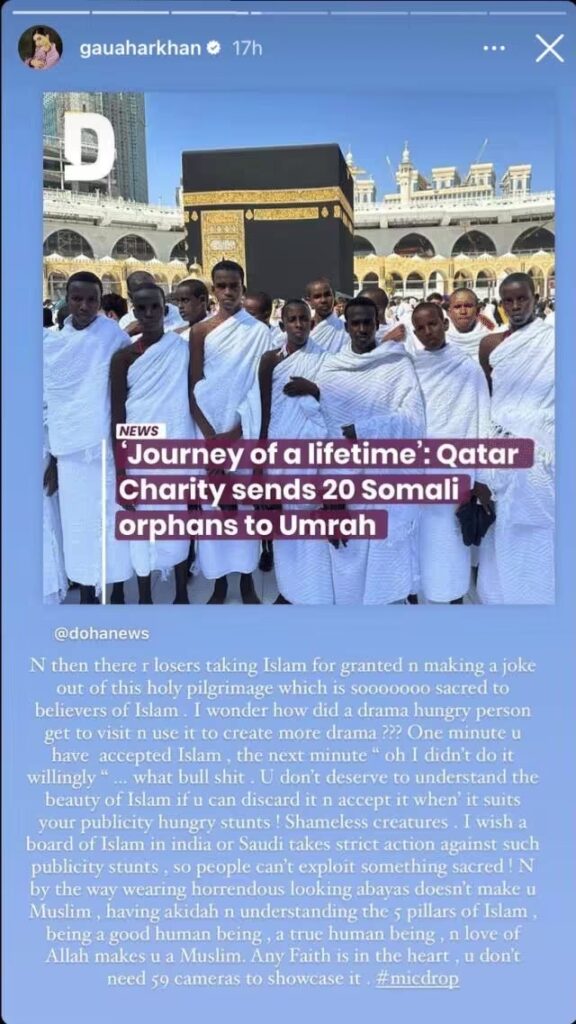 The divorce saga between Rakhi Sawant and her estranged husband Adil is only getting ugly with each passing day, with explosive allegations surfacing from both sides. Rakhi Sawant, who filed for divorce citing claims of cheating and domestic violence, now finds herself at the center of serious accusations made by Adil, who recently came out of custody after being arrested based on Rakhi's complaint.
Among the shocking allegations, Adil claims that Rakhi accused him of rape and leveled other grave accusations against her husband. This unexpected turn in their legal battle has left the public and media in a state of astonishment.
---