Mumbai: Rumors about trouble in the marriage of tennis star Sania Mirza and Pakistani cricketer Shoaib Malik have been gaining more and more attention with each passing day. The couple has been under the spotlight amid speculation that they might have parted ways, although no official confirmation has been made.
Reports suggest that the pair, who share a son named Izhaan Mirza Malik, are living separately and focusing on co-parenting their child. Despite the swirling rumours, they recently reunited to celebrate their son's fifth birthday, a moment that sparked increased speculation about their relationship status.
Sania Mirza's Cryptic Instagram Post
Adding to the rumours, Sania Mirza has often taken to Instagram to share cryptic messages. In her latest Instagram story, she shared an emotional post that read: "She will always be okay, she has to be for herself. She falls and she breaks, of course, she does. She will always pick herself back up and put herself back together. It's what she does. Because for herself and her kids, she refuses to be defeated by anything."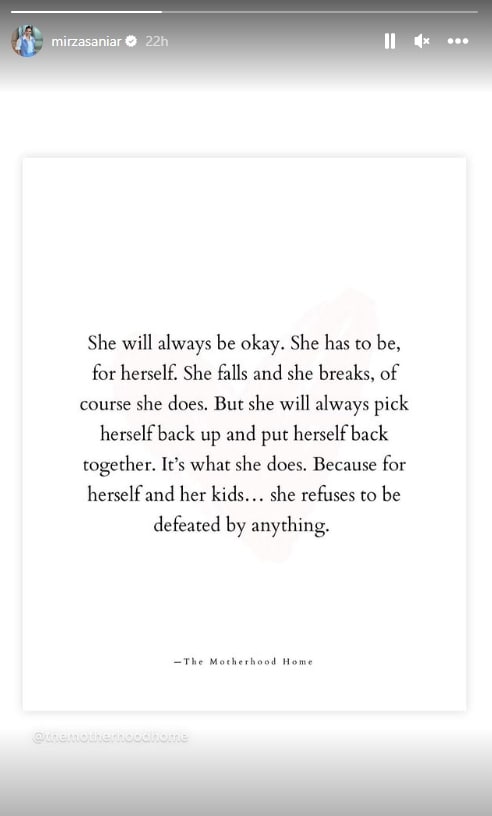 These messages, combined with the couple's apparent separate living arrangements and their recent joint celebration for Izhaan's birthday, have further fueled talks about their relationship status.
The social media activity and subtle hints from both Mirza and Malik have left fans and followers curious and concerned about the state of their marriage. However, as of now, no official statement has been released by either party regarding the status of their relationship.
Fans continue to follow their social media accounts for any further updates or clarifications on the matter.
---