New Delhi: As Tamil cinema megastar Kamal Haasan, who is also known as Ulaganayagan, celebrates his 69th birthday on Tuesday, the 'Vikram' star has received a plethora of wishes from actors and directors such as Shruti Haasan, Prabhas, Dulquer Salmaan, Lokesh Kanagaraj, Khusbhu Sundar, , among others.
Megastar Mammotty shared a picture of himself with Ulaganayagan and wrote: "Happy Birthday Kamal sir".
Shruti Haasan wishing her father on his special day wrote a heartfelt lengthy letter on her Instagram.
The actress wrote: "My dearest Appa @ikamalhaasan HAPPY HAPPY BIRTHDAY!!!!! You are a rare heart and mind full of love and ideas that you share so generously with the world. You are the best singing, dancing poetry writing and joking and laughing like crazy friend and father any girl could ask for."
Shruti added: "You fill my life with inspiration and I wish for you to have the best year ever and many many many many more years of you Sharing your rare breed of brilliant magic with all of us. Love you so much pa, you really are the OG rock star of all the things only you do so so well!!"
Superstar Prabhas, who will be working with the actor on his upcoming film 'Kalki 2898AD', wrote: "To the actor, to the legend who we've all grown up idolising…Happy Birthday Kamal Haasan sir! Fortunate to work with sir!"
Dulquer Salmaan, who will be featured in the actor's upcoming film 'Thug Life' formerly titled 'KH234', wrote: "@ikamalhaasan wishing Kamal sir the happiest birthday!"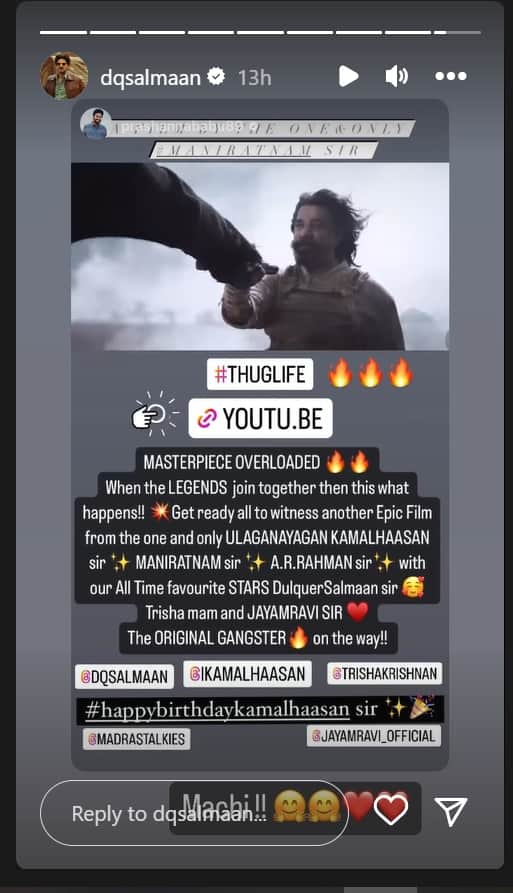 Director Lokesh Kanagaraj wished the actor an advance happy birthday on Monday and wrote: "Advance Happy Birthday Ulaganayagan @ikamalhaasan sir into the world of 'VIKRAM 2 awaits' you all."
Actress Khusbhu Sundar wrote: "Happy happy happyyyyyyyy Happpppppppppyyyyyy happpppiest birthday to you @ikamalhaasan Sir. Words fail to express how much you are loved and admired."
Currently Kamal is geared up for his most recent outing with director maestro Mani Ratnam for 'Indian 2' which will hit theatres on April 12, 2024.
---