Hyderabad: It is known to all that Khans of Bollywood and their movie releases bring immense joy to their huge fan following. When their films come out, theaters transform into lively celebrations, and fans excitedly go beyond limits in their enthusiasm.
Currently, fans are eagerly prepping up for the release of Shah Rukh Khan's upcoming film 'Jawan' which is scheduled to hit the screens on September 7. As the release date of the most-awaited movie approaches, the air is buzzing with excitement and we can expect some grand celebrations just like 'Pathaan'.
From cities to towns, fans across the nation are eagerly anticipating the cinematic treat. Hyderabad, too, is getting ready to join the festivities, with SRK's largest fan club in the world 'SRK Universe' announcing an extravagant FDFS (first day first show) event in the city. The event is set to happen across 300+ cities in India and 60+ countries worldwide on Sept 7.
Jawan FDFS Event In Hyderabad
Shah Rukh Khan's dedicated fan club in Hyderabad (SRKHydFans), which is associated with SRK Universe, shared their plans to host a remarkable opening day celebration for 'Jawan'. The announcement was made via social media post, signaling the onset of preparations for an event that's bound to become a memorable moment for all SRK enthusiasts in Hyderabad.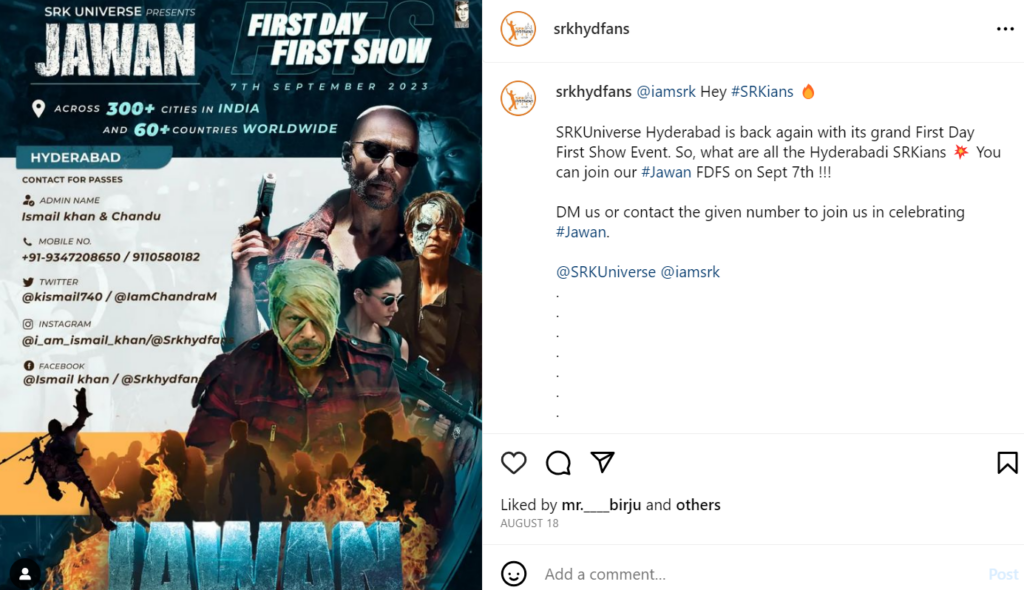 Speaking to Siasat.com, the one of the organisers of the event, Chandra said, "We have been celebrating Shah Rukh Khan's movies in Hyderabad since the release of "Happy New Year" in 2014 as a part of our fan club. Today we are one of the biggest SRK Club in South India. This time for Jawan, we are planning for a grand show with more than 400+ people. Gathering together hundreds of fans under one roof to watch a movie and celebrate is bound to be an immensely enjoyable experience and we are eagerly looking forward to it."
He further added, "We are associated with SRKUniverse for Jawan. "the Biggest SRK Club in World" . We hope more and more Shah Rukh Khan fans from Hyderabad will join with us and celebrate together for Jawan in grandway."
Details Of FDFS: Tickets, Venues And More
The organisers also spilled beans about the other details of the FDFS in Hyderabad like ticket pricess, what's included in it and venues. So, if you are planning to join these mega celebrations, check out the prices below.
Ticket prices
1. Rs 250 (It includes Ticket / Jawan Wrist Band & Jawan Ring Merchandise)
2. Rs 450 (T-Shirt & Ticket combo)
Regarding the show timings, another organiser Ismail said, "Our show timings will be around 9 am show. We are planning for earlier shows as possible. Still waiting for confirmation from distributors."
"Until now, no Bollywood movie has been released for the 7.30 am show in Hyderabad. Therefore, we are trying to arrange the 7.30 am show for 'Jawan,' making it the first Hindi movie to have an early morning release in Hyderabad," he further added.
Speaking about the venues, Ismail said, "We are planning for two venues in Hyderabad. We will announce them soon once everything is confirmed."
Are you read to dive into the thrilling "Jawan" frenzy that's about to sweep through Hyderabad? If you're eager to join in on these exuberant celebrations, block your spot by reaching out on the below given number.
Contact No of Event Organisers: 9347208650 or 9110580182
---