Mumbai: Rakhi Sawant is facing heavy criticism for videos and photos of her Umrah pilgrimage. Last month, she undertook her first Umrah, but it quickly stirred controversy, with many accusing her of seeking attention and disrespecting the faith. Even Gauahar Khan indirectly criticized her, accusing her of insulting Islam.
Now, Rakhi Sawant has posted another video from her holy trip on Instagram. In this clip, she is seen in an abaya and goggles within the holy place, and this has led to an intense backlash from the public. Many social media users criticized her for creating videos in a sacred place saying that it is 'disrespectful' and goes against the sanctity of the pilgrimage. What irked netizens the most was the way added a song in the background music of her latest video.
On social media user wrote, "Stop using Islam for your stupidity…such a shameless women ua Tumne koi religion ko nhi baksha…nw I really wish ki tumari parwarish achi hoti tho aaj Tum ye nhi kar rahe hoti…if yu would have been though what is right and what is wrong yu would understand Wat is the importance of religion n the culture of it…"
"Who makes such videos sitting at a mosque.. Shame on her," commented another user. Third comment read, "Lanat hai tum par kuch toh iss jagah ka lehaz kro pecha dekho likha kya hai aur tuna gaana dekho kya lgya hai."
Check out the comments below.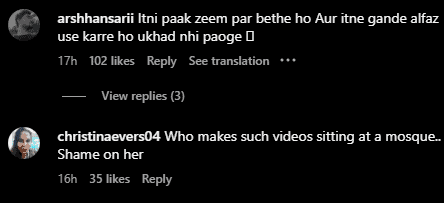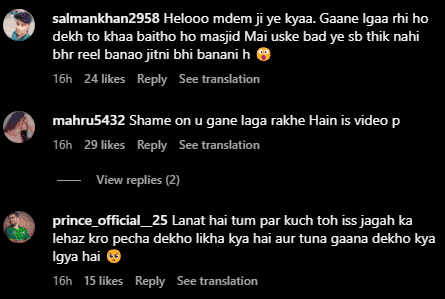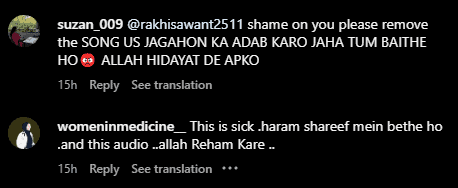 Gauahar Khan Slams Rakhi Sawant
A few days ago, Gauahar Khan called out Rakhi Sawant through a cryptic social media post and also demanded board of Islam in India or Saudi to take strict action against her.
"N then there are losers taking Islam for granted n making a joke out of this holy pilgrimage which is sooooooo sacred to believers of Islam. I wonder how a drama-hungry person gets to visit and use it to create more drama ??? One minute u have accepted Islam , the next minute" oh I didn't do it willingly " .. what bull shit. U don't deserve to understand the beauty of Islam if u can discard it n accept it when' it suits your publicity-hungry stunts! Shameless creatures," Gauahar wrote.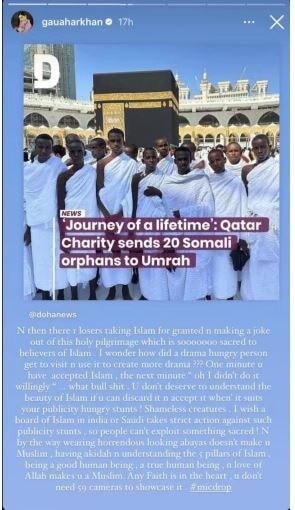 "I wish a board of Islam in India or Saudi takes strict action against such publicity stunts, so people can't exploit something sacred! N by the way wearing horrendous-looking abayas doesn't make you Muslim, having akidah n understanding the 5 pillars of Islam, being a good human being, being a true human being, and love of Allah makes u a Muslim. Any Faith is in the heart, you don't need 59 cameras to showcase it. #micdrop," she added.
---