Mumbai: As the highly-anticipated Bollywood film 'Tiger 3', starring Salman Khan, gears up for its release, a tweet has stirred up a storm on the internet. However, it's not the kind of attention the movie's creators were hoping for. Tiger 3 starring Katrina Kaif in the female lead role is slated to hit the screens on November 12 and fans are super excited for the release.
Amid the buzz, the tweet by X page 'News Of Bollywood' that is now gaining viral attention claims to provide an early review of 'Tiger 3', labeling it as a 'very bad film'. The tweet suggests that the movie's scenes are borrowed from other Yash Raj Films (YRF) productions like 'Tiger', 'Tiger Zinda Hai', 'War', and 'Pathaan', also claiming that most of the film is shot using a Salman Khan lookalike. It concludes with a one-star rating.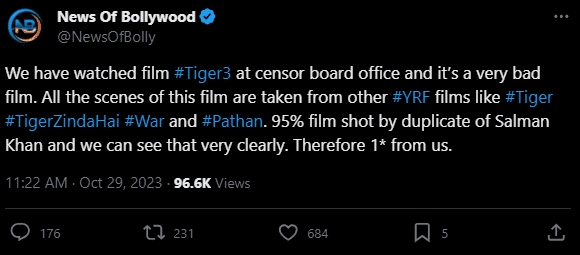 Following this tweet, Salman Khan's supporters and credible trade experts swiftly stepped in to address the issue, stating that these online reviews are fake and should not be trusted. They urged the audience not to give credence to such misleading claims. A few social media users also claimed that the Twitter page 'News Of Bollywood' is KRK's (Kamaal Rashid Khan) second account on the micro-blogging website.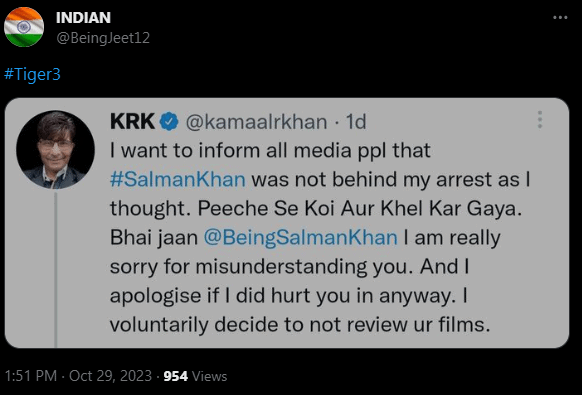 The tweet, which is causing a buzz online, has raised concerns among fans eagerly awaiting the film's release. As the clock ticks closer to the film's premiere, the controversy surrounding the early review adds an unexpected twist to the fervor and anticipation surrounding 'Tiger 3'.
Only the movie's release and public response will paint the true picture of its success. Let's wait and see.
---