Hyderabad: Dananeer Mobeen, a young Pakistani social media influencer, stirred the online world in 2021 with her 'Pawri Ho Rahi Hai' video on Instagram. The viral video quickly transcended borders and became a sensation in India after musician Yashraj Mukhate created a popular mashup based on it.
Following the video's success, Dananeer received numerous offers in the Pakistani entertainment industry and marked her acting debut in the hit show "Mohabbat Gumshuda Meri." Her acting skills captivated audiences, leading to her receiving a Best Actress award for her performance in the show.
And now, photos of Dananeer dressed as a bride are circulating across social media platforms, sparking rumors that she had tied the knot. Before jumping to conclusion, let us tell you that these images are not from her real-life wedding.
The photos depict scenes from the last episode of "Mohabbat Gumshuda Meri," where Dananeer's character Zoobi ultimately finds love and marries her co-star Khusshal Khan aka Saim. The show's finale is scheduled to air tonight, October 28, marking the end of the series.
Dananeer Mobeen also clarified the misunderstanding surrounding her recent pictures featured as a bride by commenting under a post by Viral Bhayani.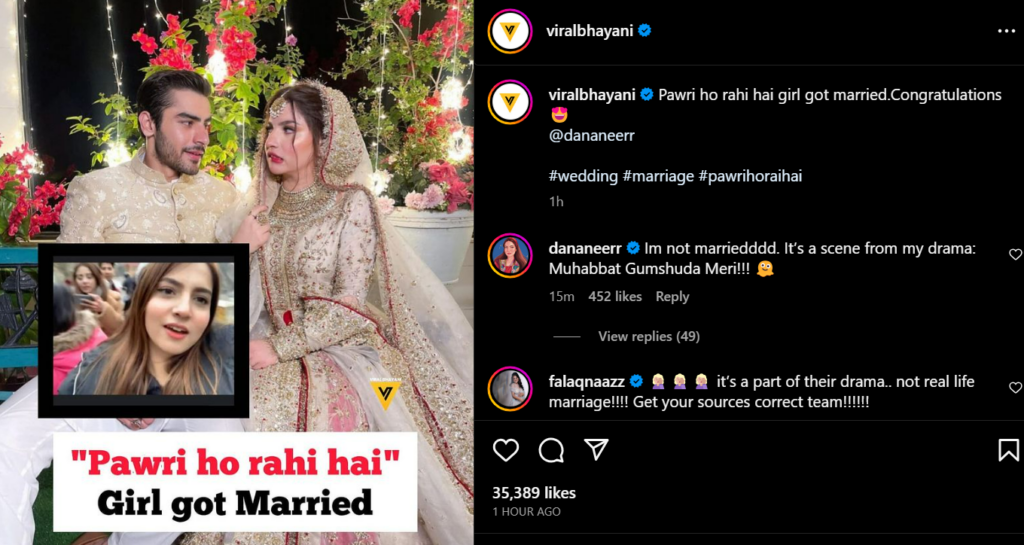 ---