Mumbai: Throughout the World Cup 2023 season, cricket players have not only showcased their skills on the field but also wowed fans with their dance moves. Videos of cricketers busting out popular dance steps to hit songs have gone crazy viral like wildfire on social media. Fans have been going gaga over these clips, sharing them widely. Well, athletes know how to entertain their fans both with their sportsmanship and their off-field antics!
And now, a super cool video of Virat Kohli, the star Indian cricketer, is making waves on Instagram! In the clip, Kohli is showing off some awesome dance moves to the catchy beats of the hit song 'Miya Bhai' by Ruhaan Arshad. Fans from all over the world are going crazy over this viral moment, and it's spreading like wildfire on social media. Kohli's Hyderabadi Marfa hook step has everyone talking, and it's definitely a must-watch for all his fans.
It seems Kohli might have taken some dance tips from his Hyderabad-born teammate, Mohammed Siraj, known for his quick pace on the field. The camaraderie between the two is known to all and in the video Siraj can be seen making a casual appearance as he strolls towards the boundary.
The video has become an instant sensation, with Hyderabadis expressing pride and excitement over their local dance style gaining global attention. Many are even calling him as 'Virat Miya'.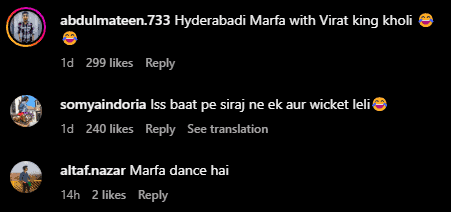 On the cricketing front, Virat Kohli etched his name in history during the World Cup semifinal clash against New Zealand on Tuesday by achieving a remarkable feat. Kohli became the first batsman in the cricketing annals to reach fifty One Day International (ODI) centuries, surpassing the previous record of 49 held by the legendary Sachin Tendulkar. This milestone cements Kohli's status as one of the greatest batsmen in the history of the sport.
---